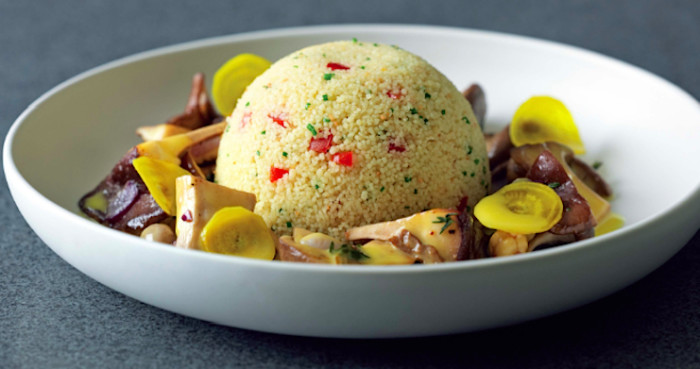 This flavorful, buttery couscous is a great way to break out of a rice or mashed potato rut. With three kinds of umami-packed fungi and a smattering of fresh herbs, this mushroom couscous recipe makes an ideal side dish for a holiday or special occasion spread where a ho-hum accompaniment just won't cut it.
Ingredients
Wild mushroom braise
3

tablespoons

extra virgin olive oil

2

shallots, sliced finely

2

cloves

garlic, finely chopped

2

tablespoons

thyme leaves

6

king mushrooms, cut into quarters

6

slippery jack mushrooms, cut thickly

2

tablespoons

dry sherry

1 1/2

ounces

dried porcini mushrooms, soaked in cold water

7

ounces

good quality chicken stock

2

tablespoons

verjuice

juice of

1/2 lemon

sea salt and freshly ground black pepper

3

tablespoons

extra virgin olive oil

1/2

teaspoon

Turkish chili flakes

2

ounces

unsalted butter, cut into pieces

thin slices of

yellow baby beetroot garnish (optional)
Couscous
2

tablespoons

extra virgin olive oil

14

ounces

couscous

12

ounces

water

2

small tomatoes, skinned, seeded and diced small

3

tablespoons

finely snipped chives

butter
Directions
Heat the oil in a large frying pan. Add the shallots, garlic and thyme leaves and sauté gently for 2 minutes, or until translucent.
Add the king and slippery jack mushrooms and sauté until lightly colored.
Add the sherry and bubble vigorously for a few minutes, stirring gently.
Strain the porcini mushrooms, reserving 2 tablespoons of the soaking liquid. Add both mushrooms and liquid to the pan. Cook for 2 minutes then add the stock.
Increase the heat and cook until the liquid has reduced by half. Stir in the verjuice and lemon and season with salt, pepper and chili flakes. Add the butter, a little at a time, whisking continuously until it is all incorporated and the sauce is thick and shiny.
Meanwhile, prepare the couscous following the method on the box, add an ounce of butter (2 tablespoons), stir in with a fork, allow to cool to room temperature and transfer to a microwave-safe bowl. Stir in the diced tomatoes and chives. Dot with the rest of the butter, cover with plastic wrap and microwave on medium for 3 minutes.
Stir briefly, then tip into a buttered pudding basin and press in firmly. To serve, unmold the couscous onto a platter and spoon the wild mushroom braise around. Garnish with baby yellow beetroot slices, if you like.
Try out these recipes with mushrooms on Food Republic: