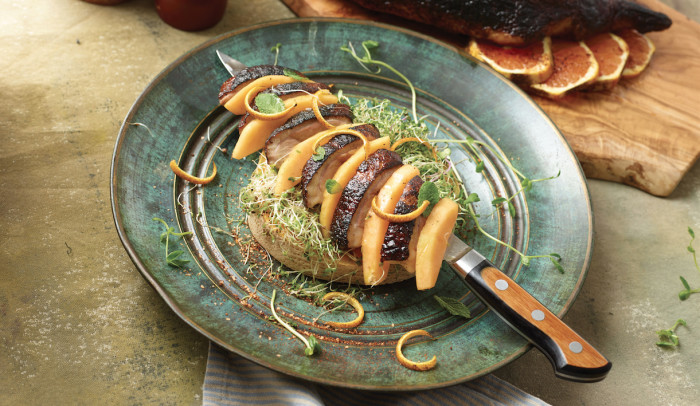 Grillmaster Lex Taylor is at it again with a book of recipes inspired by grilling techniques around the world. Whether you're craving meat, fish or vegetables from any food culture that cooks with fire, you'll find a brand-new way to enjoy it right here. Fire it up, it's time to make whole duck with honey and cantaloupe! 
Half the reason I love to grill duck is that I get to trim it beforehand and gather a nice collection of duck fat that will make a grand appearance at some unsuspecting future meal and just blow it up. The other reason is because, well, it's duck, and duck is tasty as hell. If you have a lengthy bacon résumé, those skills will translate rather nicely to duck. Both are very fatty and have a nice skin that can get super crunchy. For a spectacular effect, pair your crispy-skinned grilled duck with something cool and luscious, like cantaloupe.
Ingredients
1

duck, approximately 2 pounds

3

cloves

garlic, crushed and minced

2

tablespoons

honey

1

tablespoon

peanut oil

1

tablespoon

ground chili pepper or paprika

2

teaspoons

coarse salt

1/2

cup

fresh cilantro leaves for garnish

1/2

cataloupe, sliced 1/4-inch-thick
Materials
Spray bottle filled with water, Basting brush
Directions
For the duck
Bring the grill up to medium heat and the duck to room temperature.

Cut duck in half lengthwise.

Pat skin dry with a towel, and gently separate it from the body, enough to insert as much of the crushed garlic as possible.

Place the duck, skin side down, over medium heat, and grill it for 6 minutes, or until it is crispy and the skin is golden brown. Keep a spray bottle of water on hand to squirt down any flare-ups. Make sure the spray is more of a mist than a jet, though, since a jet of water can shoot ash all over your bird.

Flip the duck and grill it, bone side down, for 10 minutes. Meantime, whisk together the honey, oil, chili pepper or paprika, and salt.

Brush the skin side of the duck with the honey mixture, and flip it so that the skin side is down. Move the duck slightly off the direct heat. Grill it for 2 minutes, and then paint the meaty side of the duck with the honey mixture and flip it over again. Repeat, so the duck cooks 4 to 6 minutes total per side.

Garnish with cilantro leaves, and serve with thin slices of cantaloupe alongside the duck.