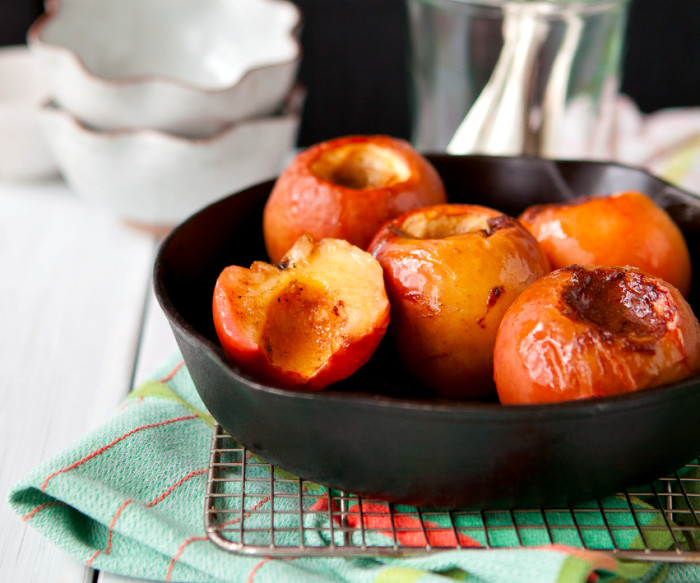 You're going to need a few great recipes for the bounty of apples that's about to drop this season. Thankfully, we have a copy of Apples: From Harvest To Table, by cook, author and urban farmer Amy Pennington. Look beyond the classic apple pie to other sweet (and savory) applications of the perfect seasonal fruit. Baked apples need no frills at all. Just maybe some ice cream.
This recipe is healthy and simple – the perfect dessert for when you're craving something sweet, but can't afford the extra calories. Apples are baked with a bit of spice-heavy butter and served whole. Of course, you can pair these gems with a scoop of vanilla ice cream, but I find them to be super satisfying even without the indulgence.
Ingredients
6

medium apples, cores and bottoms left intact

6

tablespoons (3/4 stick)

unsalted butter, at room temperature

1 1/2

teaspoons

ground cinnamon

1 1/2

teaspoons

ground cardamom

1/4

teaspoon

salt
Directions
Preheat the oven to 375 degrees F. Place the cored apples snuggly in a shallow baking dish and set aside.
In a small bowl, combine the butter, cinnamon, cardamom and salt. Using the back of a spoon, mash the mixture together until well combined.
Fill each hallowed apple core with 1 tablespoon of the seasoned butter, packing it down. Bake on the center rack for 40 to 45 minutes until the apples are soft and easily pierced with a knife. Let cool for 15 minutes before serving.
Try out these apple recipes for dessert on Food Republic: