White Wine Braised Turkey Legs Recipe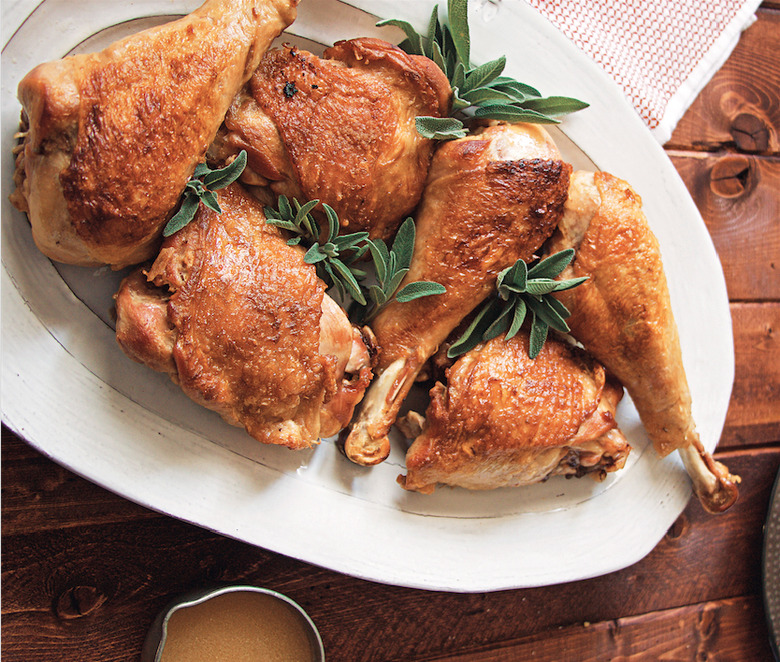 We may receive a commission on purchases made from links.
The best part of a dinner party is being a guest. And sure, being a host darting in and out of the kitchen is great and all, but wouldn't you rather be out mingling and enjoying a glass of something? Food writer and recipe developer Meredith Steele takes the grunt work out of entertaining with her new book, a collection of recipes designed to keep you at the party.
Everyone fights over the turkey legs, so I never fail with this foolproof recipe. These fall-off-the-bone tender turkey legs are incredibly simple to make and just require an overnight dry brine (optional but amazing), a quick sear and a few hours in the oven. With delicate flavors of pink peppercorn, coriander and orange zest, this recipe is irresistible.
Suggested Pairing: Chenin Blanc or Riesling if you want white; keep it dry to off-dry. For reds, Cru Beaujolais (best crus are Fleurie, Morgon, Brouilly, Julienas or Moulin-a-vent), Pinot Noir or Spanish Garnacha are light enough to not overpower. Beer: Saisons, farmhouse ales, lagers, wheat beers or even a Belgian Wild Ale will pair nicely.
Reprinted with permission from Effortless Entertaining Cookbook
White Wine Braised Turkey Legs Recipe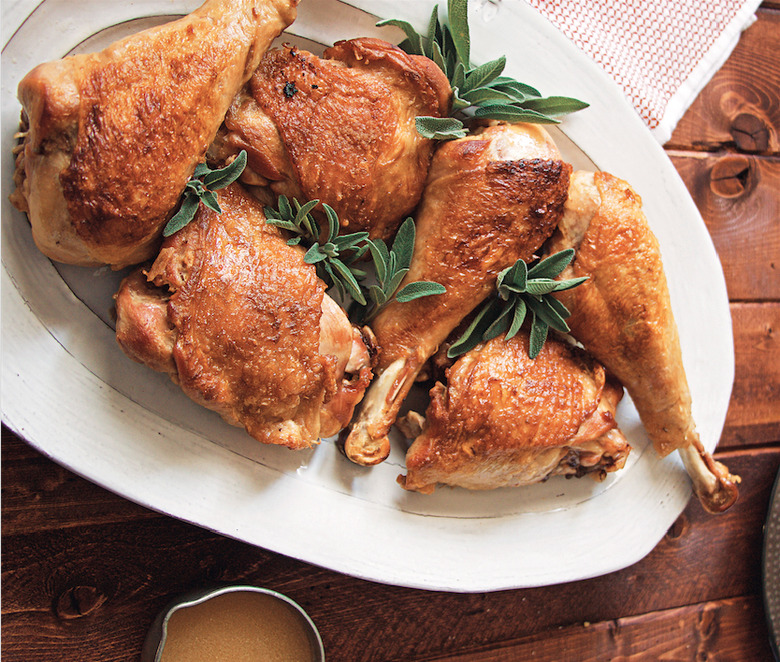 Ingredients
1 tablespoon black peppercorns
1 tablespoon pink peppercorns
1 teaspoon coriander seeds
2 whole star anise
3 bay leaves
1 1/2 tablespoons kosher salt
2 tablespoons brown sugar
1 tablespoon grated orange zest
2 tablespoons grapeseed or canola oil
4 turkey drumsticks
4 turkey thighs
1 leek
2 carrots
3 cloves garlic
2 cups dry white wine
1 cup chicken stock
Directions
In a skillet, toast black and pink peppercorns, coriander seeds, anise and bay leaves over medium heat until fragrant, about 3 minutes. Transfer to a coffee grinder or food processor and process until fine. You can alternatively place in a plastic food-safe bag and crush with a mallet or rolling pin until coarse. Combine with salt, sugar and orange zest. Rub mixture over the turkey and place in glass dish and cover with plastic wrap. Refrigerate overnight.
Preheat oven to 325ºF (165ºC). Rinse the turkey legs completely with water and pat dry with paper towels.
In a roasting pan or large heavy-bottomed pot large enough to hold the turkey, heat oil over high heat. Sear the turkey until golden, about 3 minutes a side. Remove turkey and add leeks, carrots and garlic; sauté for 2 minutes or until lightly browned and remove. Add wine and bring to a boil. Simmer until reduced by half then add the chicken stock, turkey (skin side up) and vegetables; bring to a boil. Immediately cover with foil or lid and place in the oven. Braise for 2 hours, or until the turkey is tender and falling off the bone, then remove the lid and allow to cook for another 15 minutes to allow the skin to slightly crisp.
Strain the pan juices from the vegetables and serve as a sauce alongside the turkey legs.