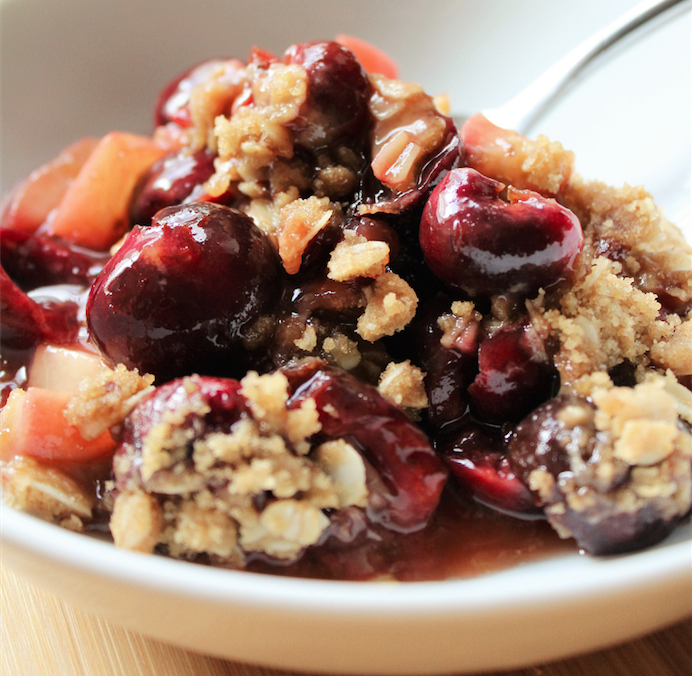 Why should salads and veggie dishes get all the garden glory? California pastry chef Lei Shishak uses seasonal fruit in this magnificent book of farm-to-table desserts. From cakes and pastries to ice cream, popsicles and puddings, there's a recipe for every fruit craving under the sun. This white peach and cherry crumble is a beauty to behold. 
When the long days of spring are in full swing, bright red cherries and gorgeous white peaches flood the market. Though delicious on their own, they pair remarkably well in this springtime crumble. The addition of sweet wine adds a noticeable richness to the filling and the double layer of brown sugar oat crumb ensures that every spoonful has a crunchy bite. If you're not a wine lover, simply substitute it with water and increase the sugar a bit.
Ingredients
Crumble
5

tablespoons

unsalted butter, soft

1/2

cup

all-purpose flour

1/2

cup

brown sugar

1/3

cup

oats

1/4

cup

sliced almonds

1/4

teaspoon

cinnamon
Filling
2

cups

cherries, pitted and halved

1

white peach, pitted and cut into bite-size pieces

1

teaspoon

lemon zest

1

teaspoon

vanilla extract

1/2

cup

sweet wine (I recommend Tokaji)

1/4

cup

sugar

1

tablespoon

cornstarch
Directions
For the crumble
Preheat oven to 350°F. Butter a 1½-quart baking dish with 1 tablespoon of butter. Set aside.

Melt the remaining butter and place in a medium bowl. Add the flour, brown sugar, oats, almonds, and cinnamon. Mix well with your hands. Transfer 1 /3 of the mixture to the prepared dish and pat down.
For the filling
Combine the cherries, peach, lemon zest, and vanilla in a bowl and toss to coat. Transfer to the prepared dish over the layer of crumble.

Combine the sweet wine, sugar, and cornstarch in a small pot over medium heat. Bring to a boil for 1 minute, stirring constantly. Pour sauce over the fruit mixture. Top with the remaining oat mixture. Bake for 30 minutes until filling bubbles.