Plant-Based Patties: How To Make White Bean Burgers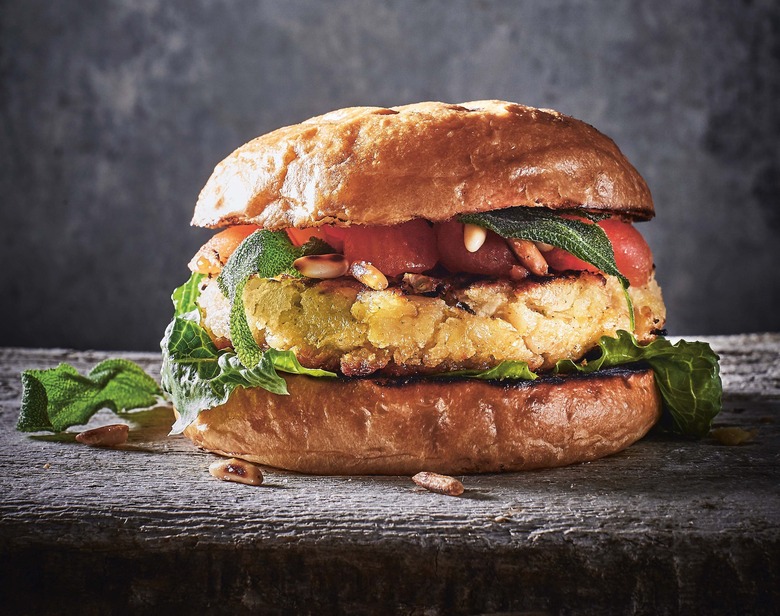 We may receive a commission on purchases made from links.
There's never been a better time to get great at making veggie burgers. Whether you've been vegetarian for years, cooking for a diverse crowd or or simply flexing your flexitarian muscle, Green Burgers is a book you'll want in your culinary library year-round. There are so many nutrient-dense combinations, you won't know where to start. We'll start with these crisp, full-flavored white bean burgers that get a dose of smoke from a surprise tomato twist.
Plant-Based Patties: How To Make White Bean Burgers
These crisp, full-flavored vegetarian white bean burgers get a dose of smoke from a surprise tomato twist. Get your plant patties on!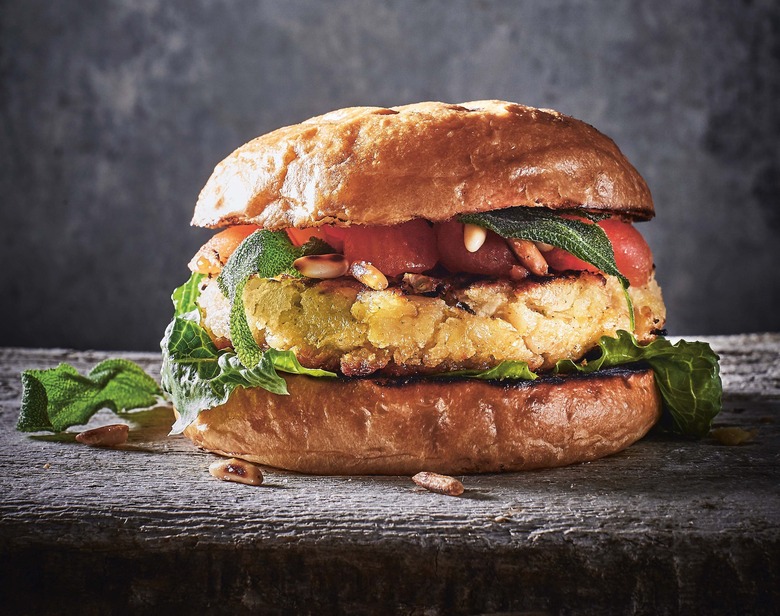 Ingredients
3 onions
2 tablespoons butter
2/3 cup white wine
4 cups cooked large white beans
Scant 1 cup panko breadcrumbs
1 tablespoon mayonnaise
2 tablespoons cashew nut butter or other nut butter
2 eggs
12 sage leaves
Peanut oil for frying
18 Smoked Tomatoes
6 burger buns
romaine lettuce leaves
2 tablespoons toasted pine nuts
1 pound 2 ounces tomatoes
4 garlic cloves
2 sprigs fresh rosemary
4 sprigs fresh thyme
Scant 1/2 cup olive oil
sea salt and freshly ground black pepper
Smoking wood chips
Directions
:::tomatoes:::
Bring a large saucepan of lightly salted water to the boil. Fill a bowl with ice-cold water and place it nearby.
Cut a cross in the tops of the tomatoes. Blanch them by quickly immersing in the boiling water for 10–15 seconds until the skin starts to loosen. Take the tomatoes out with a slotted spoon and put them in the ice-cold water, then peel them and put them to one side to dry.
Take a large ovenproof dish and a smaller heat-resistant dish with a rim around 1/2 inch high (the rim must not be higher than that of the large ovenproof dish). Put a thin layer of smoking wood chips at the bottom of the large ovenproof dish, then lay the smaller dish inside it. (If you cannot get hold of any smoking wood chips or do not have a barbecue at home you can simulate the smoky taste by sautéing the blanched tomatoes in a frying pan (skillet) with oil and a little liquid smoke.)
Light the barbecue.
Put the tomatoes, garlic and rosemary and thyme sprigs on the smaller dish and drizzle olive oil over them. Sprinkle with salt and pepper. Cover with foil and put the ovenproof dish together with the smaller dish in it on the barbecue while it is still actively flaming. After a few minutes the wood chips will start to smoke, and the smoke will wisp out under the foil (if the smoke does not appear, you can fold the foil up a bit at the corner to check it is smoking). Take the ovenproof dish off the barbecue when it starts to smoke and lay it on the ground for a few minutes. Repeat this stage three or four times. Remove the foil to check whether the tomatoes and the oil have developed any color. If not, repeat the process a few more times.
Put the tomatoes into a sterilized jar, pour the oil over them and seal the jar. To bring out the flavors, you can fry the tomatoes quickly in a little oil just before serving.
:::burgers:::
Preheat the oven to 350ºF.
Peel and finely chop the onions. Put them in a saucepan with the butter over a medium heat and fry until the onions are soft. Pour over the wine, raise the heat and cook, stirring, until considerably reduced.
Rinse the beans in water and drain in a colander.
Mix the beans in a food processor or using a hand blender (they should retain a little structure). Put the beans, the reduced onion mixture and the other ingredients for the patties in a bowl. Stir so that everything is well combined.
Take a handful of mixture at a time and shape into 6 round patties, either by hand or using a food ring. Put the burgers in the fridge for at least an hour, preferably longer, so they hold their shape when fried.
Pour plenty of oil into a frying pan (skillet), so it reaches 1/4-1/2 inch up the edge. Heat the oil to 355ºF and deep-fry the sage until it takes on a deep green color (making sure it doesn't burn). Remove it and drain it on some paper towels.
Pour off a little oil from the frying pan, reduce the heat to medium and fry the patties for a few minutes on both sides until they have developed a golden color and a crispy surface. Transfer them to an ovenproof dish and bake in the oven for 5–10 minutes.
Heat the smoked tomatoes in the same frying pan that you fried the burgers in. Pour on a little more oil if necessary. Put to one side and keep warm.
Butter the buns on the cut surface and fry them quickly in a frying pan or grill (broil) them in the oven.
Put a little lettuce at the bottom of each bun, and top it with a patty, some tomatoes and deep-fried sage leaves. Finish by sprinkling over toasted pine nuts.