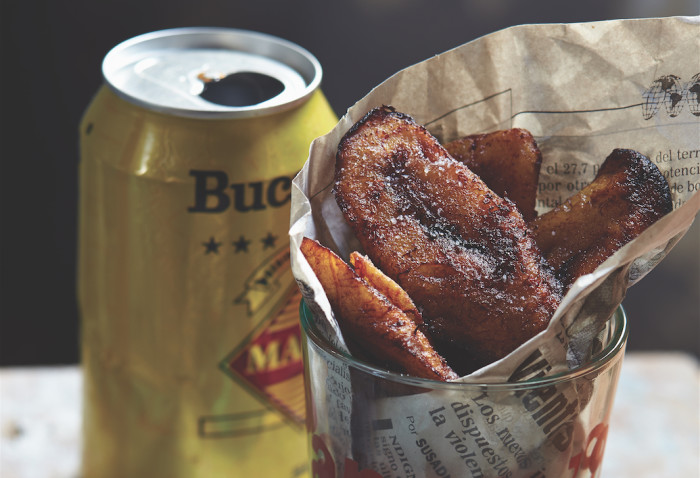 There's never been a hotter time to visit Cuba, but if it's not next on your fantasy travel list, there's Cuba! It's a collection of 75 authentic recipes gathered by the photographer-stylist team of Dan Goldberg and Andrea Kuhn, along with food writer Jody Eddy, that will bring a taste of Havana (and elsewhere) right to your home kitchen. 

Plantains are one of the most common ingredients used throughout the Caribbean and South and Central America. The tradition of cooking plantains was brought to the Americas by slaves from West Africa and is now a mainstay in the Cuban kitchen. There are countless varieties of the long, starchy root; one easy way to distinguish them is to divide them into savory plantains, which require cooking before consumption, and dessert plantains, which are peeled and eaten raw. We offer a cooking preparation for both types in this recipe; both deliver the healthful benefits of protein and vitamins C, B6, and A, along with potassium and magnesium.

The trick to achieving the best results when frying plantains is to avoid overcooking them: Remove them from the bubbling oil just when they start to turn brown, and not a moment later. Our friend Pepe told us that plantains grow so close to the sea in Cuba that you can taste the sea in them; no need for additional salt. If your plantains don't convey these ocean notes, go ahead and sprinkle on a little crunchy sea salt. If you're craving a sweet snack instead, substitute a pinch of brown sugar or a drizzle of honey. They don't keep well and should be consumed piping hot from the pan.
Ingredients
vegetable oil for deep-frying

3

ripe plantains, peeled and cut into diagonal slices about 1 inch thick

salt (optional)
Directions
For the plantains
Heat at least 4 inches of oil in a large, heavy pot until it reaches 375°F.

Working in batches, fry the plantains until they are soft and golden brown, 4 to 5 minutes.

Use a slotted spoon to transfer the plantains to paper towels to drain. Sprinkle with salt, if desired.