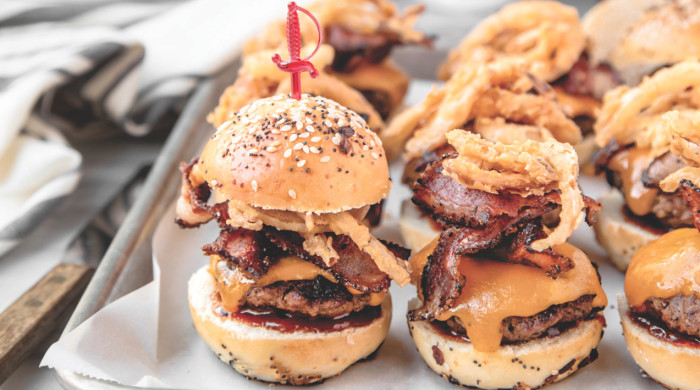 When it comes to finger food, it's hard to beat the slider. A tiny, perfect version of the sandwich you'd eat as a full meal is just about the best culinary blank canvas we can imagine, so naturally, we're snacking our way through photographer and recipe developer Jonathan Melendez's new cookbook. Grab The Slider Effect and a pack of Hawaiian sweet rolls — it's party time.

I'm not above a simple cheeseburger topped with crispy onion rings and barbecue sauce every now and then. Sure, it's not white linen tablecloth fancy, but sometimes you just need to roll up your sleeves and get a little dirty…with barbecue sauce. Let's take off our top hats and tiaras, loosen our ties, and unbutton our top buttons because these sliders are taking us back to the basics. If you don't want to go through the steps of making the onion rings from scratch, use store-bought frozen onion rings instead. Just cook in the oven according to the package directions.
Ingredients
Crispy Onion Rings
1

cup

all-purpose flour, divided

1

teaspoon

kosher salt, plus more for seasoning

1/2

teaspoon

coarsely ground black pepper

1/2

teaspoon

granulated garlic

1/2

teaspoon

paprika or cayenne pepper

1/2

teaspoon

baking powder

1/2

cup

milk or water

1

large egg, lightly beaten

1

large Vidalia onion, thinly sliced into rings

canola or vegetable oil, for frying
Sliders
2

pounds

ground beef (80 percent fat and 20 percent lean)

1

teaspoon

kosher salt

1

teaspoon

coarsely ground black pepper

2

garlic cloves, minced

1

tablespoon

worcestershire sauce

2

tablespoons

vegetable or canola oil

6

4-by-4-inch slices

sharp cheddar cheese, cut in half crosswise

12

slices

bacon, cut in half and cooked until crispy

12

pretzel buns or store-bought slider buns

3/4

cup

store-bought barbecue sauce

6

green lettuce leaves, cut in half
Directions
For the sliders
Heat about 2 inches of oil in a large, heavy-duty pot until a deep-fry thermometer reaches 360°F.

To make the onion rings, in a large bowl, whisk together ½ cup of the flour, 1 teaspoon of the salt, the black pepper, granulated garlic, paprika, baking powder, milk, and egg until smooth. Pour the remaining ½ cup flour into a shallow dish. Separate the onion slices into rings. Working with a handful of onion rings at a time, dredge in the flour, shaking off any excess, and then dip into the batter.

Set a wire rack over a baking sheet. Preheat the oven to 250°F.

Carefully place the battered onions in the hot oil, being careful not to overcrowd the pot, and fry until golden brown and crispy, about 3 minutes total. Flip over halfway through frying. Drain and transfer to a paper towel–lined baking sheet. Season with a bit of salt to taste. Transfer to the wire rack and keep warm in the oven while you prepare everything else.

To make the sliders, preheat an outdoor grill or stovetop grill pan to medium heat. In a large bowl, mix together the ground beef, salt, pepper, garlic, and Worcestershire sauce. Shape into 12 even 2-inch-wide patties and place on a plate or tray.

Brush each side with oil, and place patties on the hot grill. Cook for about 4 minutes, turn over, and continue to cook for another 4 to 6 minutes, for medium rare, or 2 to 4 minutes longer if you want them well done.

Place 2 pieces of cheese on each, along with 2 half pieces of bacon, and cook for a minute or two, so that the cheese melts. Close the grill or turn off the heat and transfer the sliders to a platter or tray.

To assemble the sliders, split the buns in half and spread each half with barbecue sauce. Place a bacon cheese slider on each bottom half, and top with a handful of the crispy onion rings, and a piece of lettuce. Replace the top half of the buns, and skewer with a long toothpick. Serve immediately.