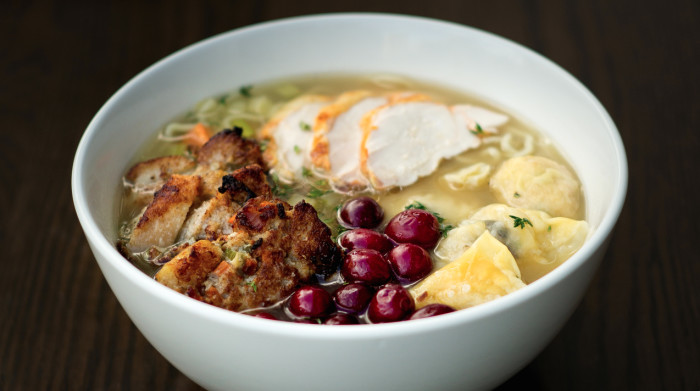 New York City chef Dale Talde is a former Top Chef star and co-owner of a growing mini-empire of Brooklyn restaurants with partners David Massoni and John Bush (the Three Kings, if you will). These include his namesake Talde, with additional locations in Jersey City and Miami, and the seasonal Thistle Hill Tavern.

We've asked chef to slide us some of our favorite recipes from TALDE. Coming straight from the kitchen of TALDE Miami Beach in the Confidante Hotel, this ingenious full Thanksgiving dinner in the form of a lovely bowl of ramen is one of them. With turkey, stuffing, cranberries and creamed spinach wontons, TALDE Miami Beach's Thanksgiving ramen is an impressive new way to fuse traditional holiday food with the Asian staples you crave. Make it at home and see for yourself — it's a labor of love, but well worth the effort. If you find yourself in Miami, it will be offered at the restaurant the whole month of November

This recipe calls for a play on tare, a thick Japanese soy dressing and dipping sauce. If you can't find it at your Asian grocery, you can substitute good-quality soy sauce.
Ingredients
Creamed Spinach Wonton Filling
3

pounds

baby spinach

1

tablespoon

garlic, minced

3

tablespoons

shallots, julienned

1

cup

milk

1

cup

cream cheese

1

teaspoon

nutmeg, ground

salt and pepper to taste

wonton wrappers
Stuffing
1/2

loaf

white bread, cubed and toasted

1/2

cup

onion, diced

1/2

cup

celery, diced

1/2

cup

fennel bulb, diced

2

teaspoons

sage, chopped

1

teaspoon

rosemary, chopped

1

teaspoon

thyme, picked

1/2

cup

bacon, cooked and chopped

1

cup

poultry stock

3

eggs

1/2

teaspoon

celery seed

1

teaspoon

salt

1/2

teaspoon

black pepper, ground
Pickled cranberries
2

cups

cranberries

1

cup

white vinegar

1

cup

water

2

tablespoons

sugar

1

teaspoon

salt

2

pieces

star anise

2

pieces

cardamom

2

teaspoons

yellow mustard seeds

1

piece

cinnamon stick

zest and juice of 1 orange
Mushroom gravy tare
2

tablespoons

butter

1/4

cup

flour

1 1/2

cups

poultry stock

Scant 1/3

cup

onion, finely chopped

2/3

cup

mushrooms, finely chopped

3

tablespoons

tare (can substitute soy sauce)
Turkey breast
1 1/3

tablespoons

garlic puree

Scant 2

tablespoons

honey

1

tablespoon

black pepper

1

sprig

rosemary

2

sprigs

thyme

2

sprigs

sage

1

whole

boneless turkey breast
For the plate
2

quarts

Ramen Broth

Fresh or dried ramen noodles, cooked

3

pieces

turkey breast

1

piece

Stuffing, cut into thirds

Pickled cranberries

4

pieces

Creamed spinach wontons

Mushroom gravy tare

Kizami nori, to garnish
Directions
For the wonton filling
In a large pan, sweat garlic and shallots. Add baby spinach and cook until it's wilted. Remove spinach from pan, remove excess water and roughly chop.

Over medium-low heat, warm up milk and melt cream cheese into milk. Once melted, add spinach mixture and season with chili flakes, ground nutmeg, salt and pepper.

Cool down mixture, stuff wontons and set aside.
For the stuffing
Sweat onions, celery, fennel bulb, and herbs. Cook until tender and cool down. Put croutons in a large bowl and mix in the vegetables, eggs, chopped bacon, stock, and celery seed. Mix until the croutons soak up all the liquids.

Preheat the oven to 325°F. Use a ring mold to portion stuffing into 2-tablespoon portions and transfer to a sheet tray. Cover with aluminum foil and bake for 25 minutes. Remove foil and cook for 10 minutes. Stuffing should be firm and set up. Cool down and reserve.
For the cranberries
Put all ingredients except cranberries in a pot and bring to a boil. When sugar is dissolved, add cranberries and return to a boil.

Remove from heat and cool. Pickle the cranberries for at least 24 hours.
For the gravy
Sweat onions and mushrooms in the butter.

Add flour and cook into a roux.

Add stock and tare (or soy sauce) and simmer untill thickened. Season with salt and pepper
For the turkey
Combine garlic, honey and black pepper and paint a turkey breast with it.

Roll the breast up with the rosemary, thyme and sage and wrap tightly in plastic wrap.

Place in an immersion circulator at 62.8 degrees C and cook for 3 hours. After cooking, transfer to an ice bath until completely cooled.

Slice thinly and reserve for plating.
For the plating
Simmer stuffed wontons for 2-3 minutes until just cooked through. Add broth to a large bowl, then add cooked ramen noodles, wontons, turkey, stuffing and cranberries. Finish with mushroom tare and garnish with nori as desired.