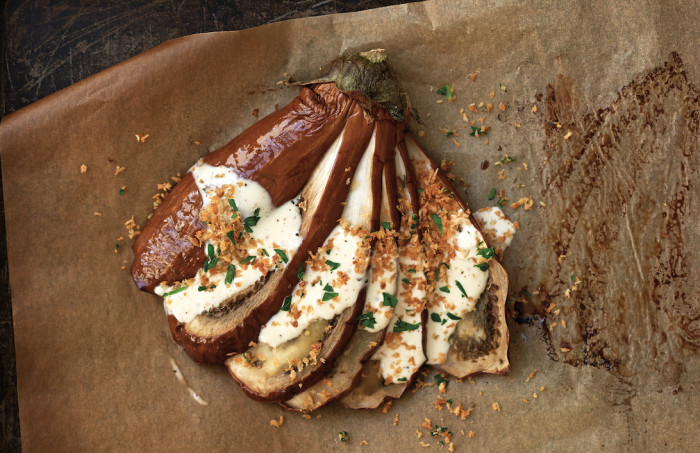 Food Network host Nikki Dinki has a new cookbook out that spotlights vegetables without leaving meat in the dust. Meat on the Side is a nod to the increasing popularity of the "flexitarian" diet, which typically uses meat as an accent to hearty, plant-based fare. Get into great habits with this new collection of vibrant recipes.

When I was young I was obsessed with paper fans. They were so elegant and exotic, and I often pictured myself grown-up, in a long dress, fanning myself on some grand terrace. Obviously, I had recently watched Gone With the Wind or something along that line. Well, my vision never exactly came true, but I still do love fans — eggplant fans, that is. A couple of cuts with your knife, and you have the most elegant light meal or side dish. The eggplant becomes tender and slightly crispy, and with the creamy dressing and breadcrumbs, it is indulgent and comforting. These eggplant fans are much better than any paper fan and obviously much tastier.
Ingredients
4

small eggplants, such as Chinese eggplant or fairytale eggplant

1

tablespoon

olive oil

1/2

teaspoon

kosher salt

1/4

teaspoon

ground black pepper

2

tablespoons

unsalted butter

1 1/2

cups

coarsely ground homemade breadcrumbs

2

tablespoons

chopped fresh-leaf parsley, plus more for garnish

1/2

cup

Caesar dressing
Directions
For the eggplants
Preheat the oven to 450°F. Line a baking sheet with parchment paper or spray it with cooking oil.

To prepare the fans, cut each eggplant lengthwise, from the base up to the stem, into several ¼-inch-thick leaves. Be sure not to cut all the way through the stem end — you want the top to remain attached. Arrange the eggplants on the baking sheet, fanning the leaves as shown in the photo. Brush the oil evenly over the fans and sprinkle them with the salt and pepper. When the oven is hot, bake the eggplants until they can easily be pierced with a fork, 15 to 20 minutes.

While the eggplants bake, melt the butter in a medium skillet over medium heat. Stir in the bread crumbs until they are evenly coated. Then stir in the parsley, tossing to combine, and let cook until the crumbs are golden brown and crunchy, about 5 minutes.

To serve, transfer an eggplant fan to each plate. Pour the dressing evenly over each and sprinkle with the breadcrumbs. Scatter some chopped parsley on top.