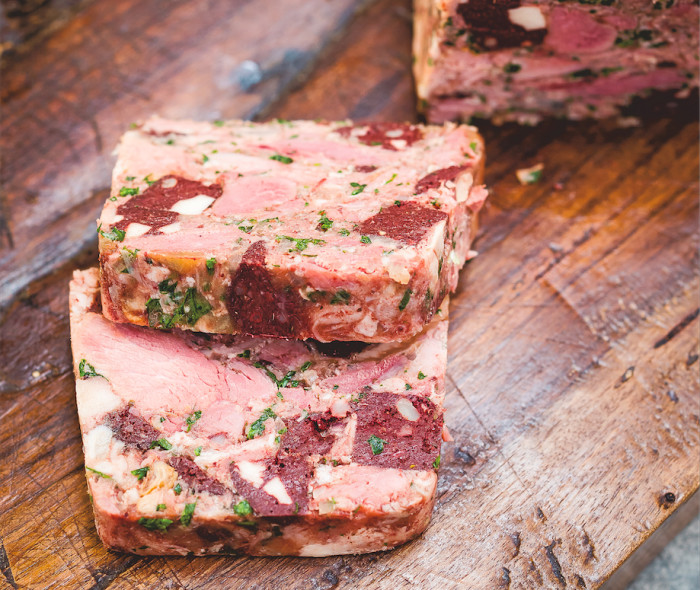 Chef Richard H. Turner is truly a master of meat. From his renowned London outposts (including the heralded Pitt Cue Co.) to cofounding the great annual carnivorous festival that is Meatopia, you can count on Turner for the very best "from snout to squeak." His new cookbook, Hog, is a hefty volume of all things pig. If you're a fan of this mighty animal, you're going to need this book, starting with this stunning hock and sausage terrine. 
This terrine was made "ad hoc" by Marcin Szott, one of my senior chefs at Hawksmoor, and it's quite delicious, as simple food so often is. The natural gelatin in the stock, combined with the overnight pressing, holds everything together, and it's very similar to a classic jambon persillé in construction.
Ingredients
2

smoked ham hocks

2

pints

court-bouillon

5 1/2

ounces

blood sausage, cut into 3/4-inch slices

4

shallots, finely diced

1

bunch

fresh parsley, chopped
Directions
Rinse the ham hocks under cold water, and then place them in a saucepan over low heat. Cover them with the court-bouillon and bring to a simmer. Let cook for about 3 hours, or until the ham hocks are soft and tender.
When the meat is ready, remove it from the pan and reduce the remaining liquid by half. Remove and discard the bones, sinews and veins from the hocks.
Flake the meat and let stand to cool. Once it has cooled, mix it with the blood sausage, shallots, parsley, and a little of the reduced liquid.
Line a terrine mold with a double layer of plastic wrap, leaving enough overhanging to fold over the top, and fill it with your mixture. Fold over the plastic wrap to cover, then press with a heavy weight and refrigerate overnight to set.
Serve the terrine in slices, with mustard, cornichons, and a simple salad.
Give blood sausage some more attention with these ideas from Food Republic: