We Heart NJ: Ripper Dogs With Jersey Relish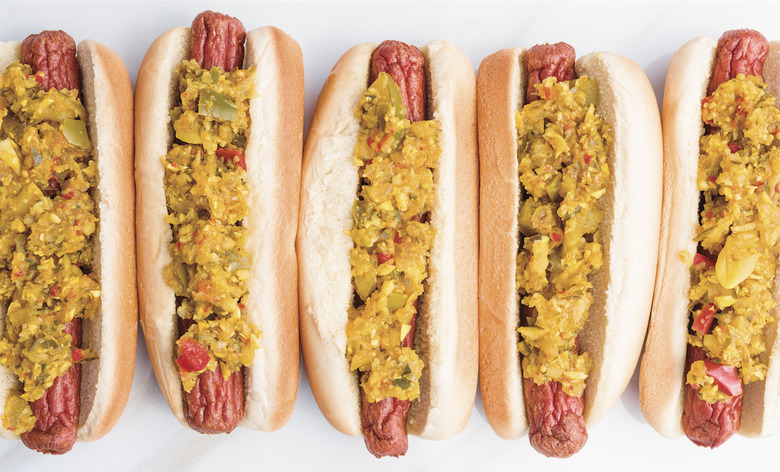 We may receive a commission on purchases made from links.
Say what you will about New Jersey, but head over the bridge and you'll eat very, very well. With an enormous amount of farmland as well as a diverse immigrant (and native) population, you'll be ready to move on from red sauce Italian quicker than you may think. Take a peek into the Garden State's culinary past, present and future with New Jersey native and food and beer journalist John Holl's new book. 
Everyone has their preferred way of cooking a hot dog. Some like the boiled or steamed ballpark variety; others like them to a varying degree of doneness on the grill. Here in Jersey, we deep-fry them. A quality frankfurter — beef or pork — will have a tough casing that withstands the hot oil, to a point; the dogs are done when they rip open, hence the nickname "rippers." Served on a bun, with a heaping of Jersey-style relish, these dogs require only a side of onion rings or fries.
We Heart NJ: Ripper Dogs With Jersey Relish
Servings
12
with some extra relish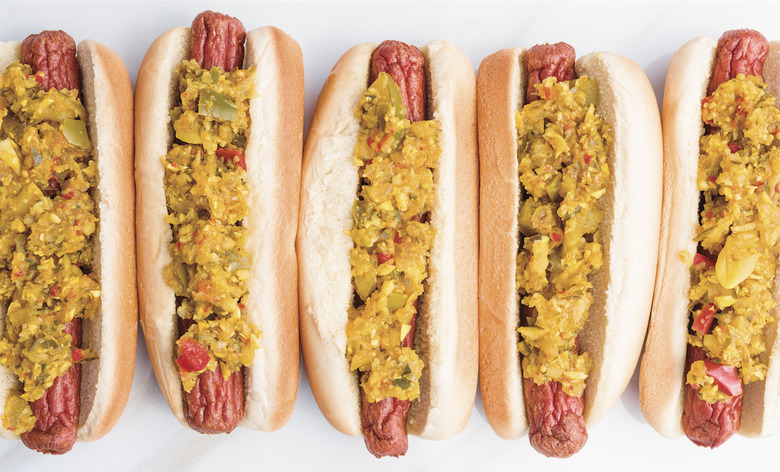 Ingredients
3 large cucumbers
1 red bell pepper
1 summer squash
1 white onion
4 garlic cloves
1/4 cup apple cider vinegar
1/4 cup prepared yellow mustard
1 tablespoon sugar
1/2 teaspoon mustard seed
1/2 teaspoon ground turmeric
kosher salt
oil
12 premium hot dogs (beef or pork), preferably from a local butcher
12 buns
Directions
Combine the cucumber, bell pepper, squash, onion, and garlic in the bowl of a food processor. Add the vinegar, mustard, sugar, mustard seed, turmeric, and salt to taste. Pulse until you have a finely chopped mixture, with the vegetables retaining some shape.
Transfer the relish to a saucepan and bring to a boil over medium-high heat. Reduce to a simmer and cook, partially covered, for 30 minutes, stirring frequently to prevent burning. Let cool in the pan, then strain the relish through a fine-mesh strainer to remove excess liquid. Refrigerate for at least 4 hours before serving. (The relish will keep for up to a week in the refrigerator.)
To prepare the hot dogs, heat 3 inches of the oil in a deep cast-iron pot or Dutch oven to 375°F. Working in batches if necessary, fry the hot dogs until the skin rips open, 3 to 4 minutes. Cook longer if you prefer a more done dog.
Remove the dogs from the oil, drain on paper towels, and place in buns. Top with relish and serve.