Wasabi Flank Steak Recipe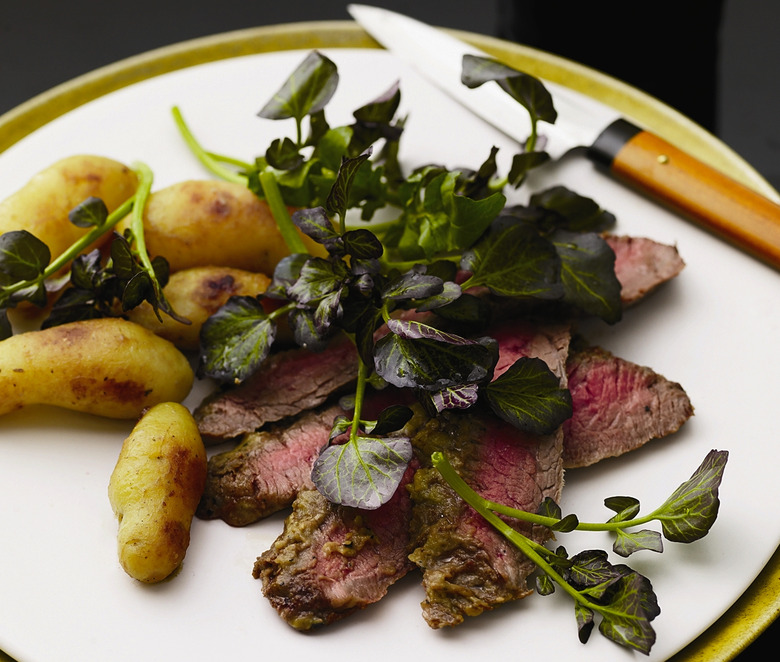 Photo: Tina Rupp/Food & Wine
At Takashi restaurant in Chicago, Takashi Yahihashi cooks strip steak in a spicy wasabi-horseradish cream. He accompanies the meat with tiny, peeled miso-glazed fingerling potatoes and deep-fried salsify (a root vegetable).
Wasabi Flank Steak Recipe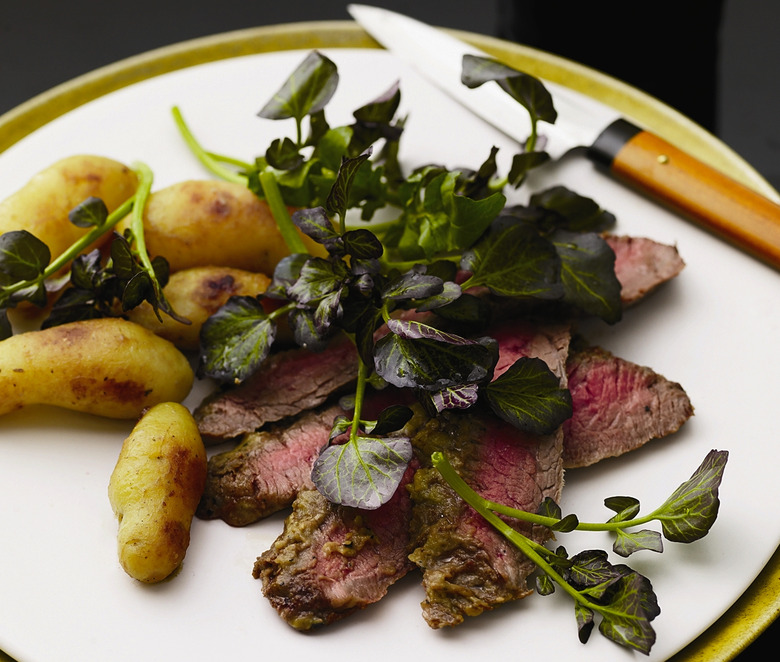 Ingredients
2 tablespoons wasabi powder
2 tablespoons water
2 tablespoons horseradish
1 teaspoon low-sodium soy sauce
1 2-pound flank steak
4 teaspoons canola oil
1 pound fingerling potatoes
1 tablespoon miso
1 tablespoon mirin
1 bunch watercress
Directions
Preheat the oven to 450F and preheat a cast-iron grill pan.
In a small bowl, combine the wasabi and water, then stir in the horseradish and soy sauce.
Rub the steak with 1 teaspoon of the oil and season with salt and pepper. Grill the steak over high heat until lightly charred, about 5 minutes. Flip the steak and spread the wasabi mixture over the charred side.
Transfer the pan to the oven and roast the steak for 10 minutes, until an instant-read thermometer inserted into the thickest part registers 135F for medium rare.
Transfer the steak to a cutting board and let rest for 10 minutes.
Meanwhile, in a saucepan of boiling water, cook the potatoes for 15 minutes. Drain and let cool. Wipe out the saucepan.
Add the remaining 3 teaspoons of oil and the potatoes and cook over moderate heat, stirring occasionally until golden, 5 minutes.
Combine the miso and mirin; add to the potatoes and cook, stirring, until glazed, about 2 minutes.
Thinly slice the steak across the grain and serve with the miso-glazed potatoes and the watercress.