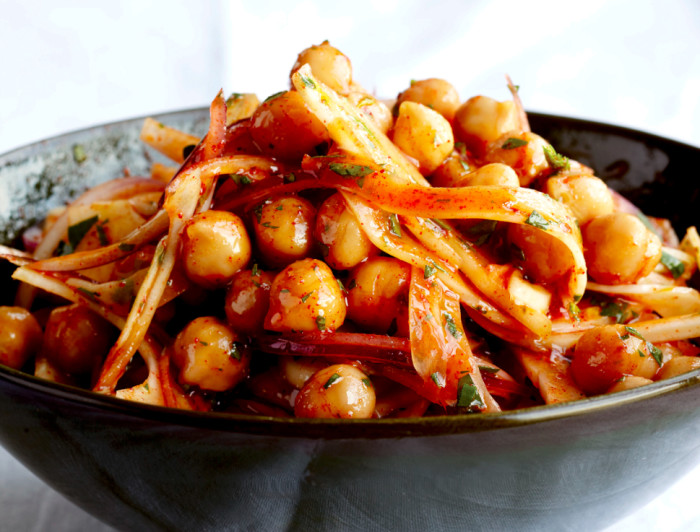 A staff meal at one of Danny Meyer's Union Square Hospitality Group restaurants is a far cry from pasta and "leftover whatever." We're crazy about Family Table, a new cookbook we hope will popularize the trend of feeding staff well and reaping the benefits. Here's a hearty garbanzo bean salad we'd totally order off the menu.
It may be hard to imagine garbanzo beans as an object of desire until you have tried them in this warm garbanzo bean salad with crunchy fennel, red onion and a smoky vinaigrette. Like any dried beans, garbanzos need to be treated with a little respect, cooked only to the point where they still have some bite. Aim for a slow, consistent simmer, the best way to guarantee that they cook evenly. If the water boils, the beans will end up mushy on the outside and hard in the center.
Ingredients
2

cups

dried garbanzo beans or two 15-ounce cans garbanzo beans, drained and rinsed

1 1/2

teaspoons

Aleppo pepper or red pepper flakes

4

garlic cloves, smashed and peeled

3

tablespoons

kosher salt, or more to taste

2

fresh thyme sprigs

1 1/2

teaspoons

Dijon mustard

2

teaspoons

smoked paprika

1/4

cup

fresh lemon juice

2

tablespoons

white wine vinegar

1

cup

extra virgin olive oil

1

fennel bulb, trimmed, cut in half, cored and thinly sliced (about 4 cups)

1

red onion, cut in half and thinly sliced (about 3 cups)

1/2

cup

finely chopped fresh Italian parsley
Directions
If using dried beans, soak the beans overnight in water to cover, then drain. Or, to quick-soak the beans, rinse them well in cold water, place them in a large pot and cover with 3 inches of cold water. Bring the water to a simmer, remove from the heat and let sit for 1 hour; drain.
Rinse the garbanzo beans. Place them in a large saucepan, add 1/2 teaspoon of the Aleppo pepper and the garlic, and cover with 3 quarts water. Bring to a low simmer and cook, uncovered, for 1 to 1 1/4 hours, or until tender.
Remove the beans from the heat, add the salt and thyme and let stand for 15 minutes.
Meanwhile, in a small bowl, whisk together the Dijon mustard, the remaining 1 teaspoon Aleppo pepper, the smoked paprika, lemon juice and vinegar. Whisking constantly, slowly add the oil. Add salt to taste if necessary.
In a large bowl, toss the fennel and red onion with 3 tablespoons of the vinaigrette.
Drain the beans and discard the thyme and garlic. Toss with the fennel and onion—the heat from the beans will soften the vegetables slightly. Stir in the parsley and toss with the remaining vinaigrette. (The salad can be made up to 1 day ahead, covered and refrigerated.)
Serve warm, at room temperature, or cold.
More vegetarian salads on Food Republic: