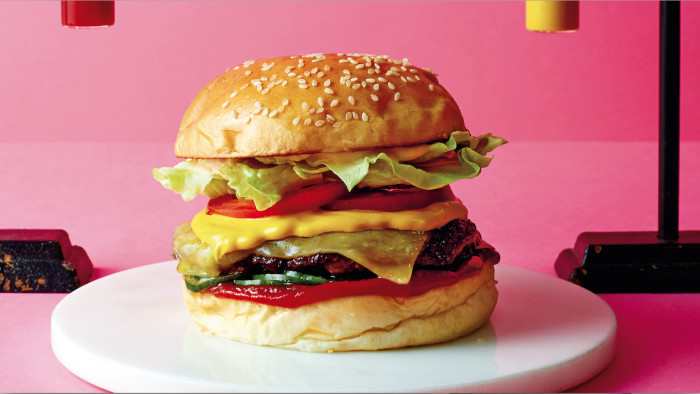 Acclaimed chef and burger expert Daniel Wilson's The Burger Lab is an extensive new book that chronicles the long and storied history of the hamburger. From its humble beginnings to its colonization of the world, this is one iconic dish worth a deep-dive. Packed with photos, recipes and stories about one of the most popular foods in the world, The Burger Lab is a thorough education in what it truly means to be a patty on a bun. If you know how to make Wilson's Wagyu cheeseburger deluxe, you're well on your way to becoming a burger master.
Here is our standard burger, from which all the others derive. Remember to make sure the pan is hot enough to caramelize the meat nicely. You might like to serve the lettuce and tomato on the side, for people to add as they wish. Just make sure you don't skimp on the condiments!
Ingredients
1

heaped teaspoon

sea salt

1/4

teaspoon

freshly ground black pepper

14

ounces

minced wagyu beef

4

slices

cheddar cheese

4

soft burger buns, cut in half

Melted clarified butter, for brushing

ketchup

20

pickle slices

spicy mustard

4

large tomato slices

4

iceberg lettuce leaves, washed, dried and torn

Basic mayo
Clarified butter
1

pound 4 tablespoons

butter
Directions
For the butter
Place the butter in a saucepan over a medium–low heat. Once it has melted, turn the heat down to low.

Skim off any scum that rises to the top. Do not stir the butter, but allow the milk solids to catch on the bottom. The liquid will evaporate eventually, and you'll be left with beautiful golden pure clarified butter. Be careful not to let the solids brown, as they will caramelize and turn the mixture into browned butter.

Strain through a fine sieve, into an airtight container. Keep in the fridge for up to 1 month.
For the burger
Mix the salt and pepper through the beef. Weigh out the mixture into four 3 1/2-ounce portions and flatten them to about 1/2-inch thick. Lay the patties on a sheet of baking paper.

Heat a flat grill plate, or a large non-stick frying pan, to a medium heat. Cook the patties for about 4 minutes on the first side, then turn them over and place a slice of cheese on each patty. Cook for a further 4 minutes, or until cooked through.

Brush the insides of the buns with clarified butter and toast lightly on the grill, then build your burgers.

BUILD FROM THE BOTTOM, IN THIS ORDER:

Bun bottom > Ketchup > Pickles > Cheese-topped patty > Mustard > Tomato > Lettuce > Bun top, spread with mayo