Vitello Tonnato Burger Recipe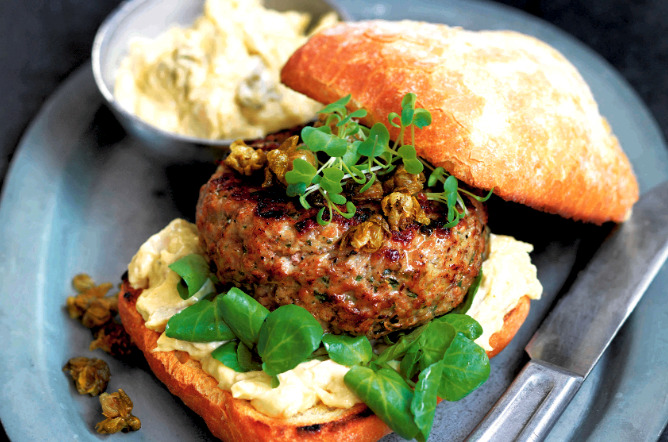 We may receive a commission on purchases made from links.
There's nothing like a great new spin on a burger. Maria Elia's Full of Flavor contains a particularly good one — a play on vitello tonnato, a classic Italian dish of sliced veal with tuna mayonnaise. Don't knock it til you've tried it — the creamy sauce and juicy, mild veal make for a burger experience you need to add to your repertoire. 
I'm such a snob when it comes to burgers, I'll admit. If I'm going to eat a burger, it's got to be top quality. I think this hits the mark for a great alternative to the traditional beef burger.
Vitello Tonnato Burger Recipe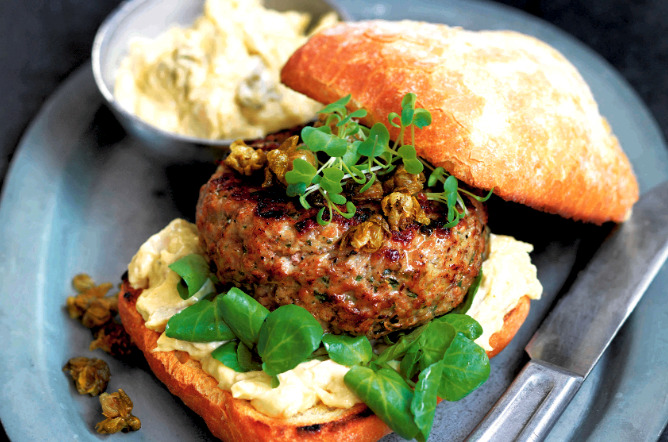 Ingredients
1 1/2 pounds best-quality ground veal
1 shallot
2 ounces capers
zest of 1 lemon
a handful of flat-leaf parsley
drizzle of olive oil
sea salt and black pepper
4 ciabatta rolls halved
1 bunch watercress
2 egg yolks
2 tablespoons lemon juice
5 salted anchovy fillets
3/4 cup olive oil
7 ounces canned sustainable tuna in olive oil
1 tablespoon salted capers
splash of white wine vinegar
squeeze of lemon juice
3 tablespoons olive oil
2 tablespoons capers
Directions
Mix together the veal, shallots, capers, lemon zest, parsley and olive oil. Season with pepper and a little salt (not too much — the capers are salty).
Taste for seasoning—if you don't want to try the mix raw, cook off a teaspoon or so and then taste.
Divide the mixture into four and shape into balls. Refrigerate for up to 1 hour. Shape into burgers about 2–2 1/2 inches in diameter.
Whisk together the egg yolks, lemon juice, and anchovies in a food processor until smooth. Then, with the motor running, add the oil in a thin, steady stream.
Add half the tuna and the capers. Pulse, just enough to combine, then fold through the remaining tuna. (If making by hand, you may want to coarsely chop the tuna and capers to break them down a little).
Finish by whisking in a little vinegar and lemon juice to taste. Chill until required — the sauce will keep for up to three days in the refrigerator.
Heat the oil in a small pan. Once hot, carefully add the capers and cook over medium heat until crisp (1–2 minutes). Remove from the pan and drain on paper towels.
Preheat a grill pan or outdoor grill.
Drizzle burgers with olive oil and cook for 2–3 minutes on either side, depending on your taste preference.
Drizzle the ciabatta rolls with olive oil and lightly toast, then spread with tonnato sauce, layer with some watercress, and top with a burger.
Garnish with crispy capers, if using. Serve with extra sauce on the side.
Burgers With Caramelized Onions, Jalapeño Relish And Red Pepper Mayonnaise Recipe
Bacon Blue Cheese Burger
Saigon Burgers With Ginger Glaze And Thai Basil Mayo Recipe