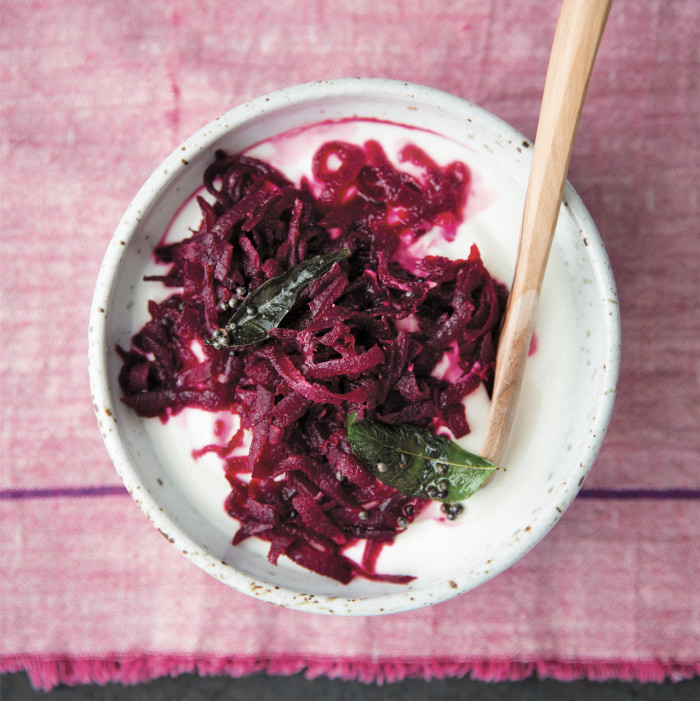 From Bangalore, India to Brooklyn, New York, culinary instructor and cookbook author Chitra Agrawal brings fresh Indian flavors to American homes everywhere. Her latest collection, Vibrant India, is filled with modern takes on classic preparations and techniques, and is a great guide to livening up your repertoire of global cuisine.
This recipe is essentially a two-for-one. It involves making a beet stir-fry, which is great on its own with a dash of lime juice, or you can continue to the next phase and combine the sauté with yogurt to make a raita. I've made it with all varieties of beets, from purple to golden. The sweetness of the beets mixes nicely with the sour yogurt, coconut, and green chiles. Shredded carrots can also be used for a variation.
Feel free to use different herbs, like chopped dill, for garnish or Greek yogurt to make the dish more diplike. This raita is a great accompaniment to rice and lentils, tacos, or even plain rice. And don't throw away those beet greens; use them in your black-eyed peas and greens stew.
Ingredients
3

tablespoons

unsweetened grated coconut (fresh, frozen or dried)

1

tablespoon

mild-flavored oil such as canola

1/2

teaspoon

black mustard seeds

Pinch

asafetida (hing) powder

4

fresh curry leaves

1 or 2

Indian green chiles or serrano chiles, chopped

1

medium beet, peeled and grated (about 2 cups)

1/4

teaspoon

turmeric powder

1/2

teaspoon

salt

2

cups

plain whole-milk yogurt, lightly beaten by hand

3

tablespoons

chopped cilantro leaves, plus more for garnish
Directions
For the raita
Thaw frozen coconut or place dried coconut in a little hot water to plump it up.

Put the oil in a tempering pot or a little pan over medium heat. When the oil is hot and shimmering, add one black mustard seed. When the seed sizzles and pops, add the rest of the mustard seeds and the asafetida. Keep a lid handy to cover the pan while the mustard seeds are popping. When the popping starts to subside (a few seconds), turn the heat to medium-low. Rub the curry leaves between your fingers a little to release their natural oils, and drop them and the green chile into the oil. Cover immediately, as moisture from the curry leaves will cause the oil to spatter. Then stir to evenly coat everything with oil and continue to fry until the chile is less raw, 10 to 15 seconds.

Add the shredded beet, turmeric powder, 1⁄4 teaspoon of the salt, and a few tablespoons of water to the pan. Mix well and stir-fry over medium heat until tender and no longer raw, 8 to 10 minutes. Add a touch more water to the pan if it is looking dry. Transfer the beet to a medium bowl to cool. (To speed up the process, I sometimes put the bowl in the freezer.)

When the beet has cooled, combine it with the beaten yogurt, coconut, and chopped cilantro. Add the remaining 1⁄4 teaspoon salt, or to taste. If my beets are super sweet, I like to balance the flavor by adding a little extra salt. Garnish with chopped cilantro and serve.