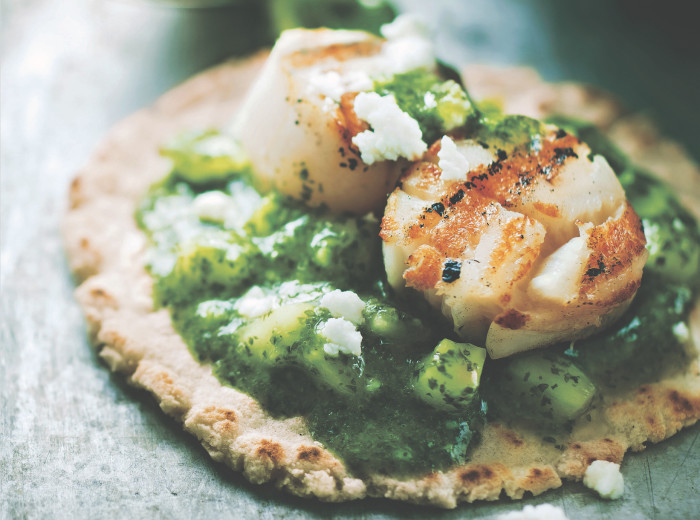 There's something satisfying about matching the color of different foods, right? This super-easy salsa (also great on your breakfast eggs) has a beautiful Green Hulk color, so choose a fresh green chili that won't ruin that effect.
Ingredients
16

large

fresh scallops

Salt and freshly ground black pepper

peanut oil, for frying

butter, for frying

salsa verde (of your choice)

lime juice, to taste

8

corn or flour tortillas
Directions
For the tacos
Pat the scallops with some paper towels until completely dry (if they're wet, they won't turn a nice color). Season with salt and pepper. Heat a saucepan with some peanut oil until really hot, then add the scallops. Now for the tricky part: You must absolutely not move the scallops about, and at the same time, of course, you'd like a nice caramelized crust that isn't burned—so how do you do it? Well, wait a couple of minutes, and when your intuition says they're starting to get done, lift one of them carefully and take a peek underneath. If it looks the same as in a restaurant, you flip them over, add a dollop of butter, and let sear on the other side as well—at the same time as you spoon over the melted butter from the pan. Tasty!

Remember that a thoroughly cooked scallop is not an alternative, so if you don't like half-cooked seafood, do another recipe instead.

When they're done, place 2 scallops on each tortilla, spoon the salsa over them, squeeze with lime juice to taste, and enjoy. Serve with small wheat or corn tortillas and lime wedges.

Tip: If you don't want to sauté the scallops, do a ceviche instead — just marinate in lime juice for 10 minutes.