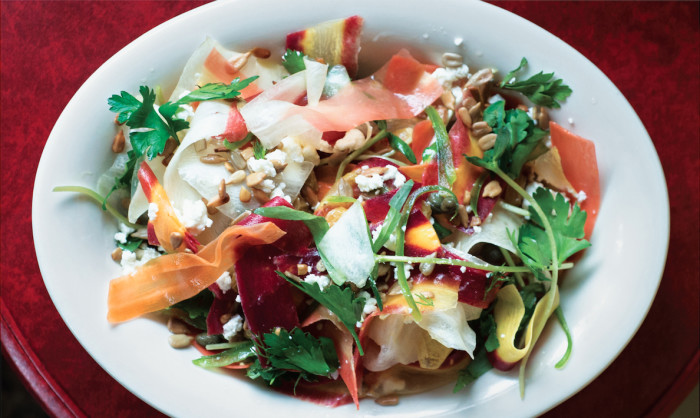 By now, you know to head to Brooklyn for an excellent cocktail in a trendy setting crafted by a bartender who is not a bartender, but in fact a mixologist. Food writer and author Barbara Scott-Goodman sourced a delicious collection of some of the borough's best bar snacks so you can replicate the best of Brooklyn in your home bar and kitchen.

Beautiful rainbow carrots have recently been showing up at farmers' markets, and chef Martinez uses them in this bountiful and refreshing salad — a tangle of vibrant yellow, orange, and purple carrots drizzled with tangy orange vinaigrette and tossed with hunks of sheep's milk cheese, pickled raisins, capers, piquant chilies, and sunflower sprouts; it's all topped with fresh herbs and toasted sunflower seeds.

Note: Orange vinegar can be purchased online at sos-chefs.com. Or you can substitute 1/4 cup fresh orange juice plus 1 teaspoon white vinegar.
Ingredients
8

large rainbow or orange carrots, preferably organic

kosher salt
Orange vinaigrette
1/4

cup

orange vinegar (see note)

1

tablespoon

white vinegar

1/4

teaspoon

orange blossom water

1

tablespoon

honey

3/4

cup

sunflower oil

1/2

teaspoon

kosher salt

freshly ground black pepper
Pickled raisins
1

cup

golden raisins

3/4

cup

white vinegar

1/4

teaspoon

orange blossom water

1/3

cup

granulated sugar

1/4

teaspoon

kosher salt
Sunflower seeds
1

cup

raw sunflower seeds

2

tablespoons

sunflower oil

1

teaspoon

kosher salt
1/4

cup

capers, rinsed and drained, for garnish

2

red Fresno peppers, stemmed, seeded and cut into very thin strips

1/2

cup

sunflower sprouts, trimmed and rinsed

1/2

cup

crumbled sheep's milk feta cheese, preferably Bulgarian

1/2

cup

chopped fresh dill

1/2

cup

chopped fresh flat-leaf parsley

1/2

cup

chopped fresh tarragon
Directions
For the salad
Using a mandoline, and a healthy amount of caution, shave the carrots lengthwise into thin strips, roughly the thickness of a quarter. You can also do this with a vegetable peeler, making sure to get thick peelings. Transfer the carrots to a large bowl, cover with ice water and add salt to taste. Let the carrots sit in the ice water in the refrigerator for at least 4 hours; overnight is ideal.

Drain the carrots in a colander and let sit for 10 minutes to remove any excess water.

To make the vinaigrette: Put the orange and white vinegars, orange blossom water, honey, oil, salt, and pepper to taste in a small bowl and whisk together. Set aside.

To prepare the sunflower seeds: Preheat the oven to 300°F.

Toss the sunflower seeds with the oil, sprinkle with the salt, and spread on a baking sheet. Bake for 10 minutes. Rotate the pan and bake until the seeds are toasted and golden, 8 to 10 minutes more.

To assemble the salad: Put the carrots, raisins, capers, pepper strips, and sprouts in a large bowl. Add the vinaigrette and toss until well coated. Transfer to a platter or salad plates, top with the cheese, herbs, and toasted sunflower seeds, and serve.