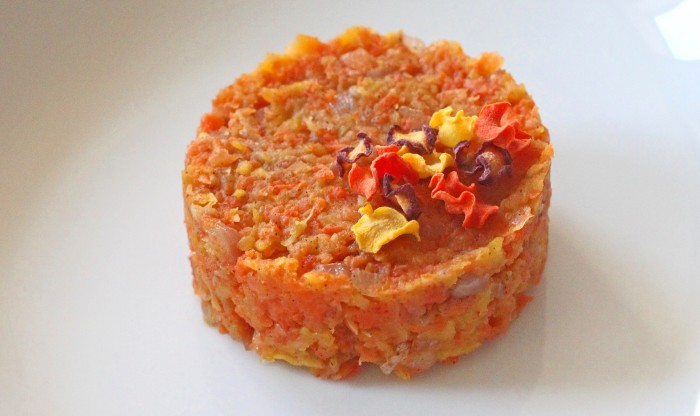 Chef, author, TV host and global culinary ambassador Aliya Leekong is a Food Republic favorite. Leekong sources techniques and ingredients from around the world, and whether you're making a recipe from her cookbook, Exotic Table, or just one off the top of her head (like this incredibly hearty vegetarian tartare), you're in for an excellent meal.
The inspiration for the tartare is an Ethiopian dish called kitfo, a steak tartare that has been warmed in butter infused with a bunch of spices. It is out of this world! Ethiopians eat the tartare several different ways: t'ire (raw) or leb leb (medium-rare) and sometimes cooked further. The spices play really nicely with the sweetness of seasonal carrots here in lieu of beef. I par-cook the carrots to get rid of that raw taste before grinding.  Also, I like to toast up the spices first in the butter with some shallots and garlic. Browning the butter, making beurre noisette, adds even greater complexity.
Ingredients
3

medium carrots, peeled

5-6

tablespoons

unsalted butter

1/2

teaspoon

ground cardamom

1

teaspoon

ground black pepper

1/4-1/2

teaspoon

cayenne

1

shallot, minced

2

garlic cloves, minced

salt, to taste

chives, for garnish

Carrot chips, for garnish
Carrot chips
2-3

thick, medium carrots

salt, to taste
Directions
For the carrot chips
Preheat oven to 225° F.

You want to use thick (meaning having a large diameter) carrots for the chips because they shrink up a lot during the dehydration process. Slice carrots very thinly into rounds using a mandoline or a very sharp knife.

Place carrots on a rack fitted over a baking sheet in a single layer. Sprinkle lightly with salt and bake for an hour to an hour and 15 minutes. They should be relatively crispy at that point, but will crisp even more as they cool. Cool completely before serving.
For the tartare
Bring a medium pot of water up to a boil and season heavily with salt. While the water is coming up, prepare an ice bath (a bowl of cold water with ice). You want to cook the carrots and then shock them in the ice bath to stop the cooking.

When the water comes up to a boil, add the carrots and cook until a fork slips easily into the thickest part of the carrot. That can vary depending on the width — I would say anywhere from 6 to 12 minutes. Transfer immediately to the ice water to stop the cooking. Remove and dry thoroughly. At this point, you can move ahead or save them in the refrigerator for use a day or two later.

If you have a stand mixer with a meat grinder attachment, pass the cooled and dry carrots through the larger, coarse grinding plate. If not, you can use a ricer or a food processor to achieve a ground carrot texture. You don't want mush, so try not to take it too far!

Heat the butter in a medium saucepan over medium heat. Add spices and toast for a minute or so until fragrant and nutty. The butter should brown a bit. Add the shallot and garlic and cook another 30 seconds to a minute. Toss in the ground carrots until they are heated through. They should be warm and touchable.

Serve warm (you can use a ring mold if you like) and top with chopped chives and carrot chips, if using.