Very Veggie: Black Bean Burgers With Sriracha Mayo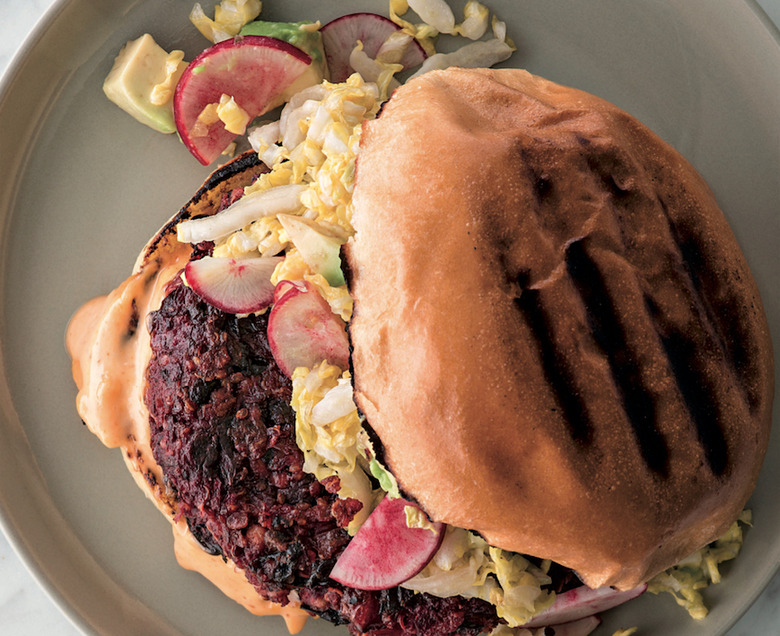 We may receive a commission on purchases made from links.
Leave it to the grillmasters at Williams-Sonoma to compile a book of summer recipes that are smoky, packed with flavor and charred in all the right places. Brush up on your grilling skills or simply take some inspiration from Grill School's wide array of ideas from all over the world.
There are many tricks for making vegetable burgers taste meaty. Our favorites are adding mushrooms to up the umami ante; seasoning with cumin and smoked salt to lead the taste buds toward chili con carne and grilled meat; stirring in some beans for a creamy mouthfeel reminiscent of well-marbled steak; and throwing in a shredded beet for some rare-meat redness. These burgers have it all.
Extra Credit: Try substituting bulgur and chickpeas, or brown rice and red beans for the quinoa and black beans.
Change up the spices. Trade out the Mexican palate for Italian, North African, Indian, or Chinese.
Replace a portion of the cabbage in your slaw with shredded carrot, fennel, apple, or sweet onion.
Very Veggie: Black Bean Burgers With Sriracha Mayo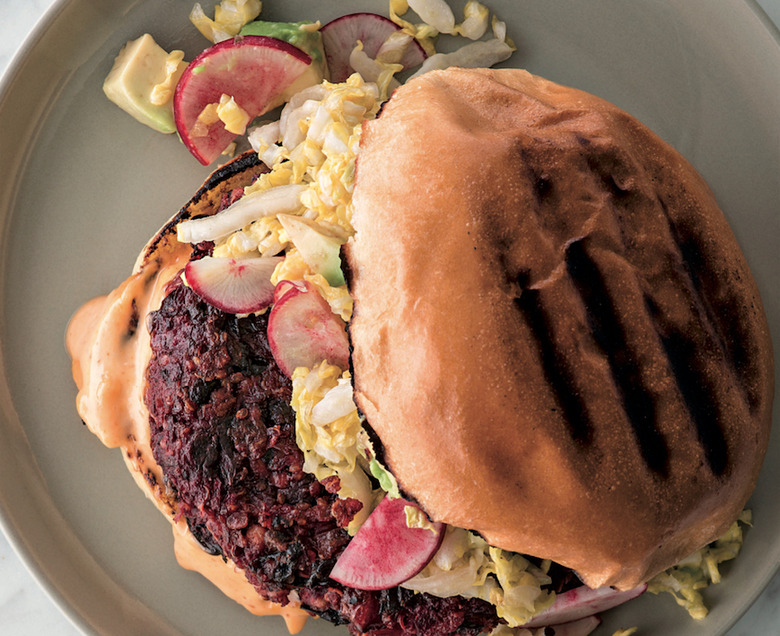 Ingredients
2 teaspoons olive oil
3/4 cup red onion
1 cup mushrooms
1 teaspoon smoked salt
1/2 teaspoon freshly ground pepper
1 teaspoon ground cumin
1 teaspoon smoked paprika
1 can black beans
3/4 cup cooked quinoa
1 cup raw beet
1 tablespoon soy sauce
1/2 cup ground walnuts
1 tablespoon canola oil or other mild vegetable oil
3/4 cup mayonnaise
1/4 cup Sriracha sauce
grated zest and juice of 1 lime
1 pound napa cabbage (about 1/2 head)
2 teaspoons coarse sea salt
2 tablespoons soy sauce
1 tablespoon rice vinegar
1/2 teaspoon honey
4 teaspoons Asian sesame oil
4 red radishes
1/2 avocado
3 tablespoons sesame seeds
1/4 cup Sriracha Mayo
Directions
:::Sriracha mayo:::
In a bowl, combine all of the ingredients and mix well. Use immediately, or transfer to an airtight container and store in the refrigerator for up to 2 weeks.
:::slaw:::
To make the slaw, in a large bowl, mix together the cabbage and sea salt. Let stand for 20 minutes. During that time, the cabbage will soften and leach out much of its water. Using your hands, pick up the cabbage and put it on a clean, flat-weave kitchen towel. Wrap the towel around the cabbage, hold it over a sink, and squeeze hard to rid the cabbage of most of its water. Rinse out the bowl and return the cabbage to it.
Add the soy sauce, vinegar, honey, sesame oil, radishes, avocado, and sesame seeds and toss to combine evenly. Cover and refrigerate until needed.
:::burger:::
Heat the grill for medium direct heat (350°-400°F).
In a large frying pan, heat the olive oil over medium heat. Add the onion and mushrooms and sauté until tender, about 4 minutes. Remove from the heat and season with the smoked salt, black pepper, cumin, and paprika. Add the beans and mash with the back of a fork until a chunky puree forms. There should be no whole beans, but there should still be lots of visible chunks. Stir in the quinoa, beet, soy sauce, and walnuts. Form into 4 patties, each about 3/4 inch thick. Coat the patties on both sides with the canola oil and set aside on a plate or rimmed baking sheet.
Put a grill screen on the grill grate and oil the screen. Heat the screen for at least 5 minutes. Put the patties on the hot screen, cover the grill (vents completely open), and grill the burgers, turning once, until browned and heated through, about 5 minutes per side. To toast the buns, place them, cut-side down, directly over the fire 1 minute before the burgers are ready.
To assemble the burgers, spread a thin layer of the mayo on the bottom half of each bun. Top with burgers, a little more mayo, and a generous dollop of slaw. Place the bun top askew to one side. You will probably have more slaw than can fit on the burgers. Serve the remainder on the side.