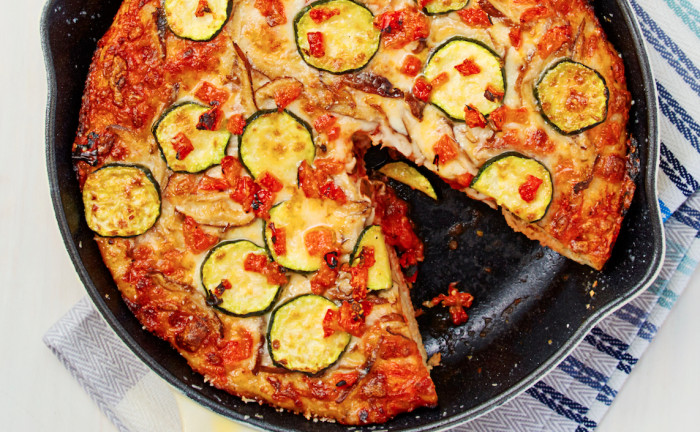 Keep it simple with Good Housekeeping's Skillet Suppers, a new collection of nutritious, easy-to-make recipes you can make right in your trusty cast-iron skillet. Packed with meals for every time of day, this is one book guaranteed to satisfy your craving. This deep-dish veggie supreme pizza is a great way to feed everyone at the table. 
Build a pizza in a cast-iron skillet, then throw the pan in a hot oven. Brilliant!
Tip: Opt for pizzeria-style dough from the supermarket or a local pizza shop. The pop open kind tends to burn on the bottom.
Reprinted with permission from Good Housekeeping Skillet Suppers
Ingredients
1

pound

fresh or frozen (thawed) pizza dough

1

c

marinara sauce

1

cup

mozzarella, shredded

2

tablespoons

finely grated Parmesan cheese

4

ounces

shiitake mushrooms, stemmed and thinly sliced

1

small zucchini, very thinly sliced

2

tablespoons

olive oil

3

teaspoons

salt

1

cup

roasted red peppers, drained and chopped
Directions
For the pizza
Preheat oven to 475°F. Spray 12-inch cast-iron skillet with nonstick cooking spray.

Press pizza dough into bottom of skillet. Spread with marinara sauce; top with mozzarella and Parmesan.

In large bowl, toss mushrooms with zucchini, olive oil, and salt. Arrange over cheese. Sprinkle with roasted peppers.

Bake for 30 minutes or until cheese is browned and bottom of crust is brown and crisp. Let stand for 5 minutes before serving.