Veggie Heaven: Fennel With Gorgonzola Recipe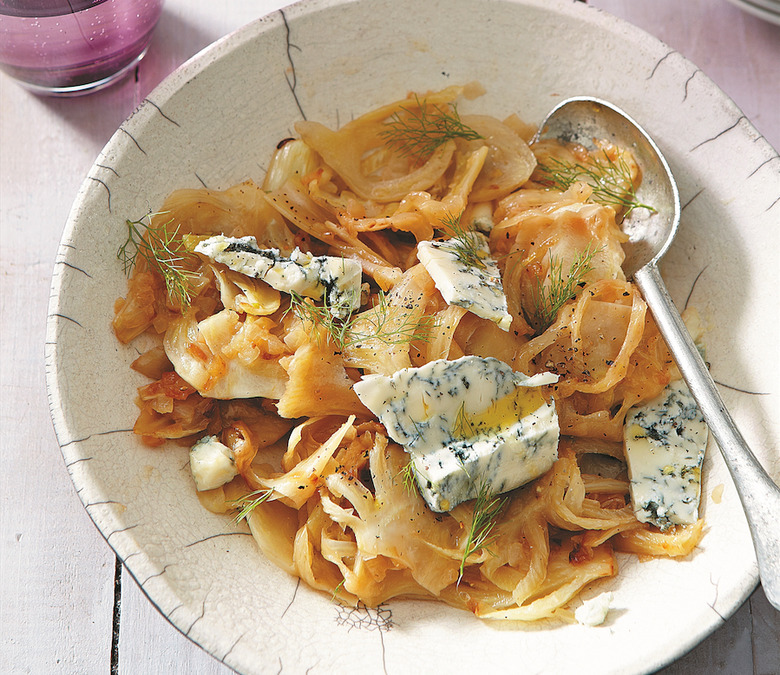 Watch your fennel to broth ratio for the ultimate braised root.
We may receive a commission on purchases made from links.
If you truly love the kind of food only an Italian grandma could put on the table, you'll need to hop a ferry to Staten Island and make a pilgrimage to Enoteca Maria. The kitchen is staffed entirely by Italian grandmas, and therefore the food on the table is filled with love. Restaurant founder Jody Scaravella's new cookbook, Nonna's House, is a collection of beloved recipes you'll want to try...even if yours doesn't turn out like Nonna's the first time. Try out this great vegetarian recipe that becomes extraordinary when you add in cheese.
Braised fennel is made even more tempting with Gorgonzola in my recipe for this classic side dish. Add just enough broth so the fennel gets tender without becoming soupy.
Veggie Heaven: Fennel With Gorgonzola Recipe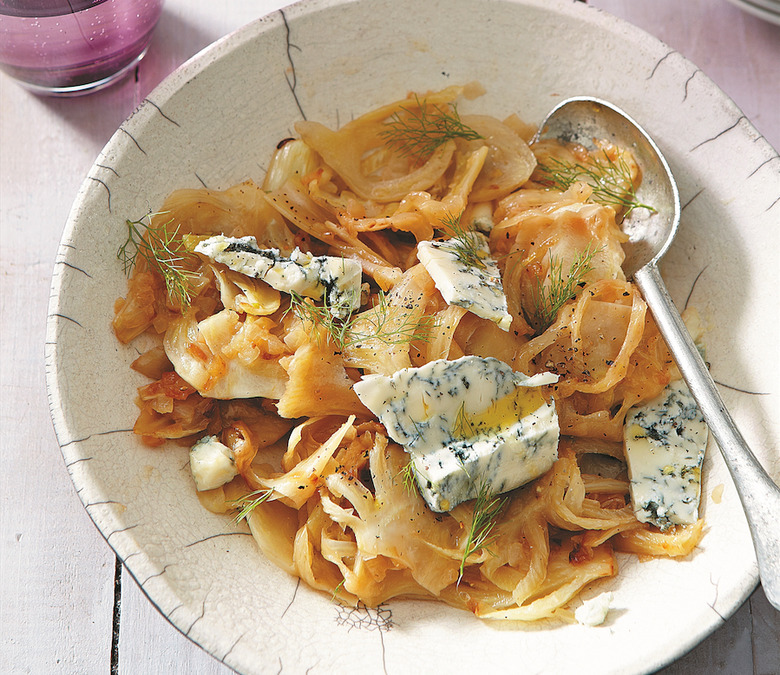 Ingredients
3 tablespoons unsalted butter
3 tablespoons olive oil
1 medium onion
2 large fennel bulbs
1/4 teaspoon salt
1/4 teaspoon freshly ground black pepper
1/2 cup chicken or vegetable broth
4 ounces Gorgonzola
1 ounce Parmigiano-Reggiano
Directions
Melt the butter in the oil in a large skillet over medium heat. Add the onion and cook, stirring often, until softened, about 4 minutes.
Add the fennel, salt, and pepper. Cook, stirring often, for 5 minutes. Add 2 tablespoons of the broth and continue cooking, stirring often, and adding more broth every few minutes, until the fennel is tender, about 15 minutes.
When the broth has been absorbed and the fennel is tender, turn off the heat and sprinkle with the Gorgonzola. Cover and set aside for 5 minutes so that the cheese melts.
If desired, and if you've used a broiler-safe pan, dust the dish with Parmigiano-Reggiano, set the skillet 4 to 6 inches from a heated broiler and broil until lightly brown, 1 to 2 minutes.
Spiced Pork Belly With Fennel And Tomato Salad Recipe
Chicken Milanese Topped With Fennel Salad Recipe
Grapefruit Fennel Juice Recipe