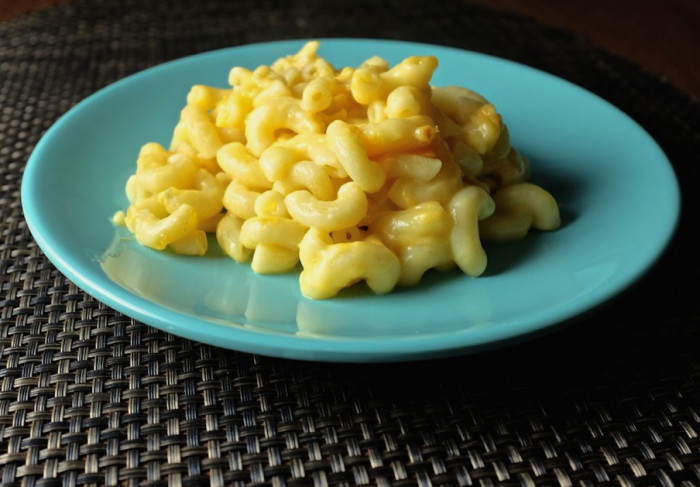 Between my dog and myself, we have a host of dietary hurdles to overcome. He can't digest protein or citrus; I can't have gluten or dairy. We're a hot mess, he and I, yet we make it work. I diligently make him banana and potato biscuits every week, and for myself, I indulge in the most verboten dish of all for the lactose and gluten-averse: mac 'n cheese.
I like this recipe for a lot of reasons. It's super easy, fast, cheap, and allows for endless customization. But best of all, it reminds me of the blue-box version my mom used to make when I was young. We all know this box. Delicious when you're age 8, but tastes more like chalky nostalgia in your 20s.
The process is exactly the same for this recipe, only I've substituted high quality, diet-friendly ingredients for stuff in the box. The starchy pasta water helps everything bind together without the need for milk. I can usually tolerate a small amount of butter without my body staging a coup d'etat, but if your dietary sensitivities are more severe, a substitute like Earth Balance works fine. I like using Daiya vegan cheese and use a combination of 60:40 cheddar to mozzarella to add a clingy thickness to the sauce, plus gluten-free noodles, but the recipe is essentially a template. Modify however you see fit — regular pasta, different varieties of vegan cheese, add blanched peas or sautéed kale…the world is yours.
Ingredients
2

cups

gluten-free pasta, preferably cavatappi, radiatori or shells (something with a lot of nooks for the sauce)

1

- 2 tablespoons

butter or dairy-free substitute such as margarine or soy-based spread

1 1/2

cups total

dairy-free shredded cheddar and mozzarella (I use Daiya brand)

1

cup

pasta cooking liquid

Salt and pepper

red chili flakes (optional)
Directions
Bring a medium-sized pot of generously salted water to a boil.
Drop in noodles, stir to ensure they don't stick together, and using a slotted spoon, remove pasta when al dente and set aside in a strainer. Whatever you do, do NOT rinse those noodles.
Reserve a cup of the pasta water from the pot, then drain the rest and return the pot to the stove on low heat.
Add butter, or butter substitute if using, and noodles and stir to coat the pasta.
Once the noodles and butter are simmering slightly, add 1/2 cup of the reserved pasta water and the cheese. Stir thoroughly to incorporate everything. The cheese should begin to melt and bind with the pasta water and butter, resulting in silky, glistening cheese sauce.
Add more of the cooking liquid as necessary a tablespoon at a time if you need more sauce.
Taste, then adjust seasoning with salt, pepper and chili flakes (if using).
Once the cheese is almost fully melted and everything looks happy, turn off the burner, cover the pot, let sit for 3-5 minutes and serve.
Author's Note: If you are using gluten-free pasta here, which I typically do, monitor your noodles very carefully as the window for a proper al dente is quite narrow. Pull the noodles about one minute before they are al dente as they will go through a second stage of cooking. If you fully cook the noodles in the pot, you will end up with a mushy final product, and no one wants that.
Find more vegan recipes on Food Republic: