Vegan Tonight: Plantain Tacos With Pepitas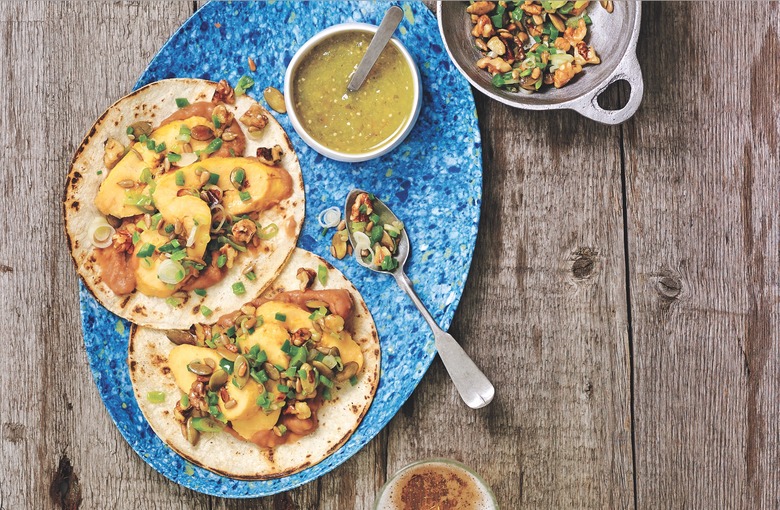 Vegan tacos can be sweet, savory and utterly satisfying. Pick up some plantains and pepitas and try it ou
We may receive a commission on purchases made from links.
Pati Jinich has been whipping up Mexican favorites on PBS for half a decade, so when you're looking for a go-to cookbook for your favorite South-of-the-border fare, look no further than her new collection, Mexican Today. Whether you're cooking for the family on a weeknight or bringing down the house for the holidays (whatever they may be), there's a recipe or two in this book to pump you up. 
These wholesome yet rich-tasting soft vegan tacos filled with chunky, savory refried beans and caramelized ripe plantains will please everybody at your table, including the most fanatic meat-taco aficionados. My mom and I came up with the recipe the last time she visited us. We paired the refrieds with the plantains and topped them with a crunchy mix of toasted walnuts and pumpkin and sunflower seeds tossed with seared scallions. Don't hesitate to drizzle a liberal amount of quick salsa verde over the tacos.
Make Ahead: These tacos taste best if you eat them as soon as the plantains come out of the oven. The pumpkin seed crunch can be made a couple of hours ahead.
Vegan Tonight: Plantain Tacos With Pepitas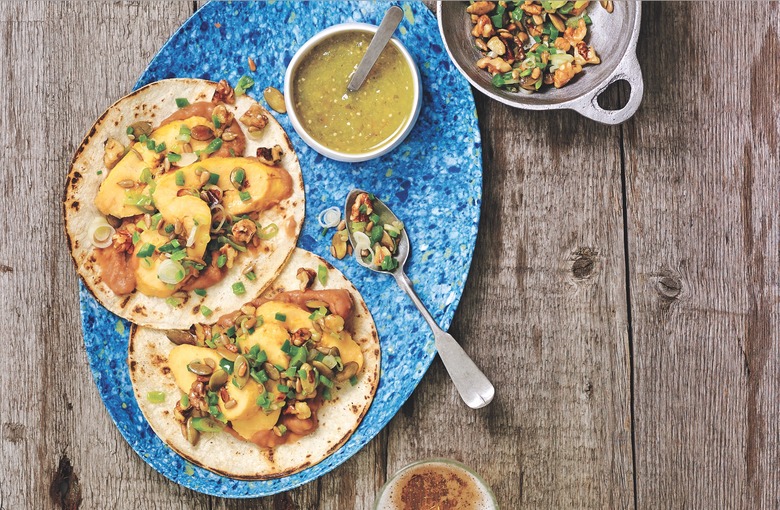 Ingredients
2 very ripe plantains (about 1 1/2 pounds)
1 tablespoon olive oil
6 to 8 scallions (white and light green parts only)
1 jalapeño chili
1/4 teaspoon kosher or sea salt or to taste
1/2 cup coarsely chopped walnuts
1/4 cup hulled raw pumpkin seeds (pepitas)
1/4 cup sunflower seeds
1 1/2 cups refried beans
10 corn tortillas warmed
2 pounds tomatillos
2 jalapeño or serrano chilies
2 garlic cloves
1/2 cup coarsely chopped fresh cilantro leaves and upper part of stems
1/4 cup coarsely chopped white onion
3/4 teaspoon kosher or sea salt or to taste
Directions
:::salsa:::
Combine the tomatillos, chilies, and garlic in a medium saucepan, cover generously with water, and bring to a simmer over medium heat. Cook for 10 to 12 minutes, until the tomatillos go from pale to olive green and are thoroughly tender but not falling apart. Drain.
Transfer the tomatillos and garlic to a blender. Remove the stems of the chilies and set 1 chili aside. Add the other to the blender, along with the cilantro, onion, and salt, and puree until smooth. Taste for salt and adjust if desired. If you want more heat, add some or all of the remaining chilies and blend together. Serve.
:::tacos:::
Preheat the oven to 400 degrees.
Roll the unpeeled plantains on your counter for a few seconds to really soften them up. Line a small baking sheet with aluminum foil and place the plantains on it. Bake for 30 to 40 minutes, or until the plantains are completely cooked, have broken through their skin, and are lightly browned on the outside and caramelized.
While the plantains bake, heat the oil in a large skillet over medium heat. Add the scallions and jalapeño and cook, stirring occasionally, until softened, 2 to 3 minutes. Add the salt and stir well. Make room in the center of the skillet and add the walnuts and pumpkin and sunflower seeds. Cook for 30 seconds, without stirring, then stir the seeds into the scallions and jalapeño and cook, stirring, for another 2 minutes. The walnuts and seeds should be lightly toasted. Remove from the heat.
In a small skillet or saucepan, heat the refried beans over medium heat, stirring often. Remove from the heat. Cover to keep warm.
Peel the plantains while they are still hot and slice or chop them.
Spoon a couple of tablespoons of refried beans onto the center of each tortilla, add 3 or 4 slices or a couple of tablespoons of chopped plantain, and top with a couple of tablespoons of pumpkin seed walnut crunch. Drizzle salsa on top. Eat while hot!