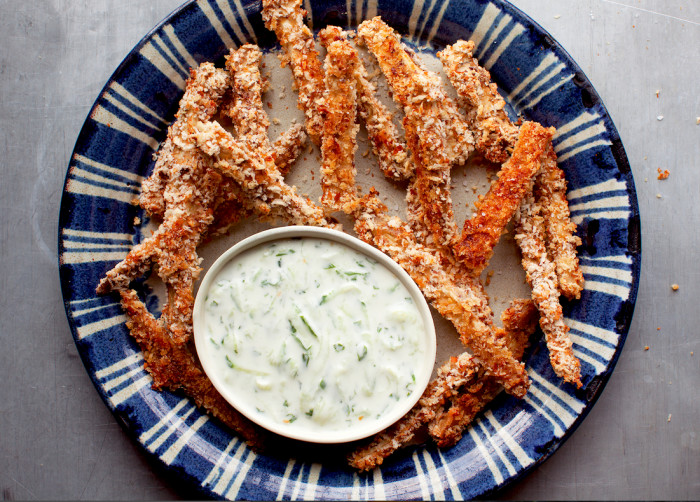 Looking for a vegan recipe everyone will love? We're sure your strategy of "just make it without the bacon" will work and everything, but just in case it doesn't, there's Robin Robertson, author of more than 20 healthy living cookbooks. Her latest, Vegan Without Borders, is a trove of nutritious vegan recipes that don't lack anything but a big group of hungry people chowing down on it. Make these crunchy baked eggplant fries and you may never go back to potatoes.
Crunchy and delicious, these "fries" are a surefire way to make an eggplant lover out of just about anyone. And because they're baked, not fried, they're good for you too! Serve them as a side dish with jackfruit gyros for a hearty lunch or casual supper. Dipping them in tzatziki sauce is a must!
Reprinted with permission from Robin Robertson's Vegan Without Borders
Ingredients
Tzatziki Sauce
3

cloves

garlic, crushed

1/2

small

cucumber, peeled, seeded and quartered

1/4

cup

vegan yogurt

1/4

cup

vegan sour cream

1

tablespoon

freshly squeezed lemon juice

2

tablespoons

fresh dill, mint or parsley, chopped

Salt and freshly ground black pepper
Eggplant Fries
1

large

eggplant, peeled and sliced vertically into 1/2-inch slices

1/2

cup

flour of choice (all purpose, rice or chickpea are good choices)

1/2

teaspoon

salt

1/4

teaspoon

freshly ground black pepper

1/8

teaspoon

cayenne

1

cup

plain unsweetened almond milk or other non-dairy milk

2

tablespoons

ground flaxseed, blended with 1/4 cup water until thick

1

tablespoon

freshly squeezed lemon juice

1

cup

dry bread crumbs

3

tablespoons

nutritional yeast

2

teaspoons

dried oregano

1

teaspoon

dried basil

1

teaspoon

smoked paprika

tzatziki sauce for serving
Directions
For the tzatziki sauce:
In a food processor, combine the garlic and cucumber and process until finely minced.
Add the yogurt, sour cream, lemon juice, dill and salt and pepper to taste.
Process until well blended, then transfer to a bowl.
Taste to adjust the seasonings if needed. Cover and refrigerate until needed (recipe yields 1 cup).
For the eggplant fries:
Cut the eggplant slices into 1/2-inch strips. If the strips are too long, cut them in half. Set aside.
Preheat the oven to 425°F.
Lightly oil a baking sheet and set aside.
In a shallow bowl, combine the flour, salt, pepper and cayenne and mix well.
In a second shallow bowl, combine the almond milk, flaxseed mixture and lemon juice, stirring to blend.
In a third shallow bowl, combine the bread crumbs, nutritional yeast, oregano, basil and paprika.
Dredge the eggplant strips in the flour mixture, then dip them in the milk mixture, then roll them in the bread crumb mixture.
Arrange the strips in a single layer on the prepared baking sheet.
Bake for 15 minutes, then flip over and bake for about 10 minutes longer, or until golden brown and crispy.
Sprinkle the hot fries with salt. Serve with a bowl of the sauce.
Find more eggplant recipes on Food Republic: