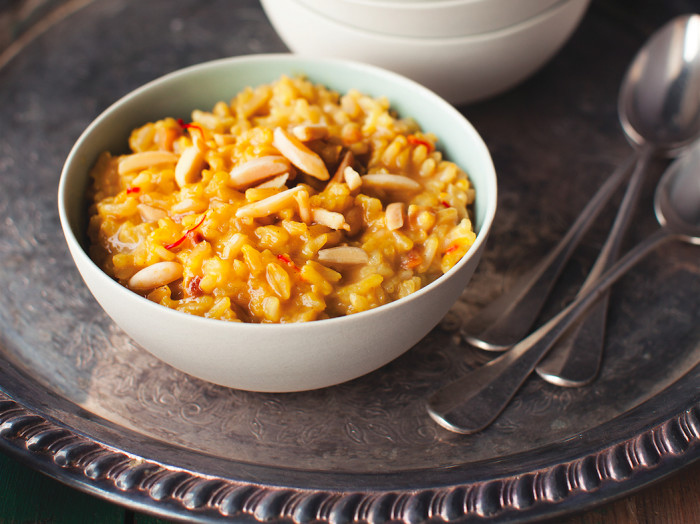 Looking for a vegan recipe everyone will love? We're sure your strategy of "just make it without the bacon" will work and everything, but just in case it doesn't, there's Robin Robertson, author of more than 20 healthy living cookbooks. Her latest, Vegan Without Borders, is a trove of nutritious vegan recipes that don't lack anything but a big group of hungry people chowing down on it. Make this creamy rice pudding and you may never go back to the original recipe.
I prefer to make rice pudding using leftover cooked rice rather than starting from scratch with raw rice because it's quicker and it's a great way to use leftover rice. My favorite rice for rice pudding is brown basmati rice, but if you like a creamier texture, try sushi rice, arborio rice or jasmine rice.
Reprinted with permission from Robin Robertson's Vegan Without Borders
Ingredients
1

tablespoon

pure maple syrup or agave nectar

1

tablespoon

almond butter

2

teaspoons

natural sugar

1/2

teaspoon

ground cinnamon

few pinches of

saffron

1/8

teaspoon

salt

1

cup

almond milk

2

cups

basmati rice (or your favorite rice), cooked

1/2

cup

slivered almonds, toasted
Directions
In a small saucepan, combine the maple syrup, almond butter, sugar, cinnamon, saffron and salt over medium heat.
Slowly add the almond milk, stirring to blend.
Add the cooked rice and cook, stirring until the rice is heated through and the mixture begins to thicken.
Decrease the heat to medium-low, stirring occasionally, until the desired consistency is reached.
For a thinner pudding, add a little more almond milk. For a creamier texture, use an immersion blender to blend a portion of the rice pudding right in the saucepan.
To serve, spoon the pudding into bowls and sprinkle with toasted almonds.
Find more rice pudding on Food Republic: