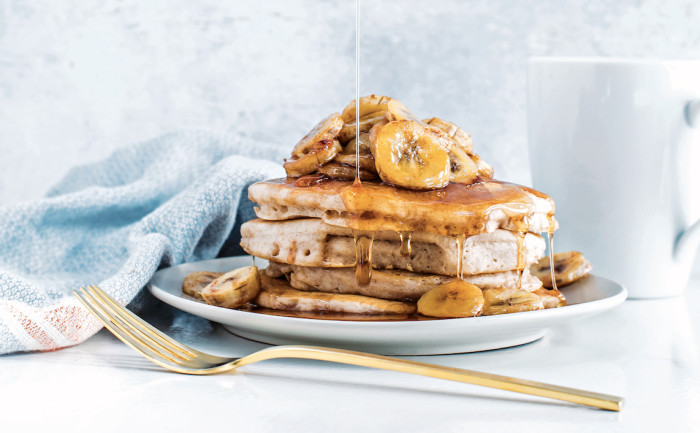 Cook vegan food on a tight budget with help from recipe developer Katie Koteen and Kate Kasbee of Well Vegan. While certain vegan ingredients like nut milks and soy-based proteins may fall on the more expensive side, there are plenty of things you can do to enjoy an entirely plant-based diet for less. These vegan pancakes with roasted bananas are a smash hit!
If you haven't made these before, you're in for a treat. Roasted bananas take just a few extra minutes to prepare, but are entirely worth the effort. Firm, even slightly under-ripe, bananas work great for this recipe as they soften quite a bit as they cook. We suggest using maple/agave-blend syrup, because it's less expensive than pure maple syrup.
Ingredients
2-3

bananas, cut into 1/2-inch pieces

3

tablespoons

maple-agave blend syrup

1

cup

unbleached all-purpose flour (or half all-purpose and half whole wheat)

2

tablespoons

baking powder

1/2

teaspoon

cinnamon

1

tablespoon

sugar

1/8

teaspoon

salt

1

cup

nondairy milk

2

tablespoons

vegetable oil

Coconut oil, peanut butter and pure maple syrup, for serving, optional
Directions
For the pancakes
Preheat the oven to 375°F.

Place the sliced bananas on a baking sheet lined with parchment paper. Drizzle the maple/agave-blend syrup over the banana pieces and toss to evenly coat. Sprinkle bananas with cinnamon and bake for 10 to 15 minutes, or until the pieces are soft and sticky. Set aside.

While the bananas are baking, combine the flour, baking powder, cinnamon, sugar and salt in a bowl. In a separate bowl, combine the milk and oil. Add the milk mixture to the flour mixture and stir just until moistened; a few lumps are okay (don't overmix or the pancakes will be tough).

Heat a nonstick pan over medium heat (you can add some oil, but with a nonstick pan you shouldn't need it.) Give the batter a quick stir and maybe another splash of nondairy milk so it's nice and pourable before adding it to the pan. Then pour the batter onto the pan to form circles about 6 inches in diameter. Cook the pancakes for a couple of minutes on one side, until bubbles appear on the surface. Flip the pancakes and cook the other side until golden brown, about 3 minutes.

Serve the pancakes topped with roasted bananas and maple/agave-blend syrup or other additional toppings if desired.