Vegan Cookout: Summer Vegetable And Tofu Kebabs Recipe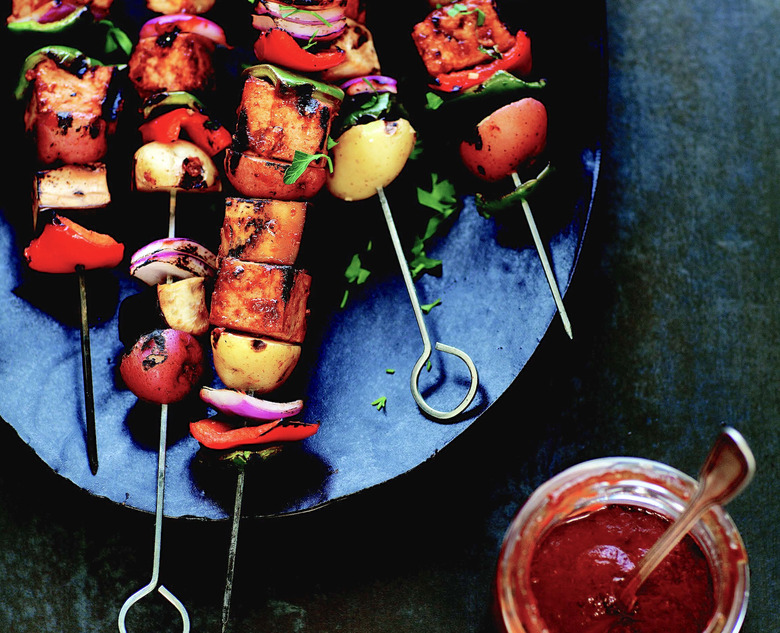 Vegans love cookouts, too! Please everyone with these skewers. (Photo: Paige Green.
We may receive a commission on purchases made from links.
When the hot weather hits and the grills are smoking, there is most certainly a place for vegan cuisine. And, really, you don't have to be vegan to enjoy it. It's light, healthy and can be pretty easy to make (though, this recipe requires some advance planning). Pick up a copy of renowned vegan cook and author Bryant Terry's new book, Afro-Vegan, and pump up the flavor with African, Caribbean and Southern influence. These sweet and smoky grilled tofu skewers with homemade barbecue sauce are an instant winner. Here, Terry tells us about his hit recipe.
You can't go wrong serving these kebabs at a cookout. You can prepare them in advance, and they're practically a meal unto themselves when served along with couscous, potato salad or a grain-based dish. And what a great way to showcase summer's bounty of vegetables! Tweak the recipe by using whatever vegetables are most exciting to you. Note that this recipe requires a fair amount of advance preparation: freezing and then thawing the tofu, marinating the thawed tofu overnight, and preparing a double batch of the barbecue sauce.
Vegan Cookout: Summer Vegetable And Tofu Kebabs Recipe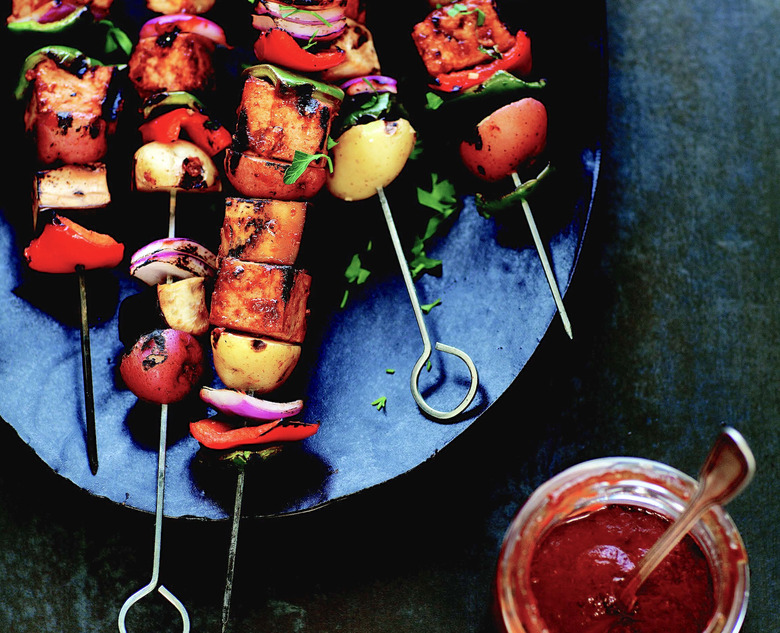 Ingredients
3 tablespoons extra virgin olive oil
1/2 cup red onion
1/4 teaspoon coarse sea salt
1/8 teaspoon cayenne pepper
1 large clove garlic
1 cup peaches
1 cup tomato sauce
1/4 cup water
1/4 cup red wine vinegar
1/4 cup pomegranate molasses
3 tablespoons lime juice
2 tablespoons tamari
2 tablespoons tomato paste
1 - 3 tablespoons chipotle chile in adobo sauce
2 teaspoons fresh sage
28 ounces extra-firm tofu
4 ounces small round potatoes
3 tablespoons extra virgin olive oil
1 tablespoon lemon juice
1 large clove garlic
1 teaspoon coarse sea salt
pinch of cayenne pepper
1 globe eggplant (about 1 pound)
1 green bell pepper
1 large red bell pepper
1 large red onion
Directions
Warm the oil in a small saucepan over medium heat.
Add the onion, salt and cayenne and sauté until fragrant, 2 to 3 minutes.
Transfer to a blender.
Add the peaches, tomato sauce, water, vinegar, pomegranate molasses, lime juice, tamari, tomato paste and chipotle chile and process until smooth.
Pour the sauce back into the saucepan and simmer over medium-low heat, stirring occasionally, until thick, about 20 minutes.
Stir in the sage and simmer for 1 to 2 minutes.
Taste and season with more salt if desired.
Use immediately or store in a tightly sealed jar for up to 1 week. This recipe makes 2 1/2 cups of sauce.
Put the tofu on a plate. Put another plate on top and weight it (a 28-ounce can of tomatoes also works well) to press the excess moisture out of the tofu. Let sit for at least 20 minutes.
Drain away the liquid and cut the tofu into 1/2-inch cubes.
Put the tofu and 2 cups of the barbecue sauce in a large bowl and toss gently until the tofu is evenly coated.
Transfer all the contents of the bowl to a ziplock bag and refrigerate overnight.
Remove the tofu from the refrigerator and let it warm to room temperature.
Put the potatoes in a small saucepan, add water to cover and bring to a boil over high heat.
Decrease the heat to medium low, cover and cook until just fork-tender, 8 to 10 minutes. Drain and let cool.
Prepare a medium‑high grill.
While the grill is heating, put the oil, lemon juice, garlic, salt and cayenne in a large bowl and whisk to combine.
Add the potatoes, eggplant, green and red bell peppers and onion and toss gently until evenly coated.
Next, thread the tofu and vegetables onto 10 metal skewers, distributing them evenly among the skewers.
Put the remaining 3 cups barbecue sauce in a small saucepan and add any sauce remaining in the ziplock bag.
Bring to a boil over high heat, stirring frequently, and continue cooking for about 1 minute. Transfer to a serving bowl.
Brush the grill grate with oil. Put the kebabs on the grill and cook, turning frequently, until the tofu is lightly charred and the vegetables are fork-tender, about 8 minutes.
Serve with the hot barbecue sauce alongside.
Grilled Vegetable Salad With Brown Butter Vinaigrette Recipe
Grilled Radish Crostini Recipe
Grilled Vegetables Recipe