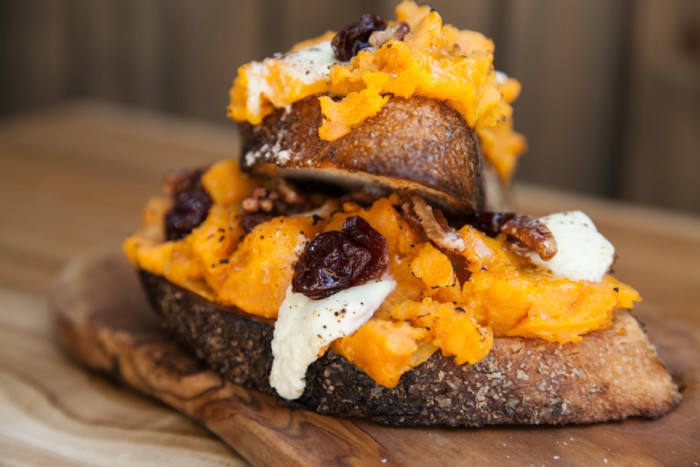 Located in the heart of Manhattan's Union Square,  Union Fare is a New American restaurant with a heart as big as its square footage. (It's really big.) There's a new treat on the menu every time you go in, and fall is no exception. Swap the avocado on your toast for mashed pumpkin and add some goat cheese for a colorful, seasonal, sweet and savory lunch, vibrant first course or anytime snack.
Ingredients
2

slices whole grain bread (cut 1 inch thick)

1

medium pumpkin

1/4

cup

goat cheese

1/4

cup

dried cherries

1/4

cup

toasted pecans

olive oil

coarse salt

maple syrup
Directions
For the smash
Wash and dry pumpkin.

Lay a big piece of aluminum down on a table. Drizzle a little olive oil all around. Place pumpkin in the center. Drizzle with olive oil, black pepper and salt. Wrap in aluminum and roast in a 350° F oven for 30 minutes.

Remove from the oven and allow it to cool completely. Cut in half and scoop out the seeds.

Scoop out the flesh — it should be soft enough to mash easily with a fork. If not, re-cover with foil and roast for another 15 minutes.

Toast whole grain bread lightly in a toaster oven. Drizzle with olive oil. Smash the pumpkin on top.

Add some crushed pecans, dollops of goat cheese, and dried cherries. Drizzle with olive oil and maple syrup.

Pop back into a toaster oven on high until the cheese is melted a tad. Drizzle with a little more maple and coarse salt, then serve immediately.