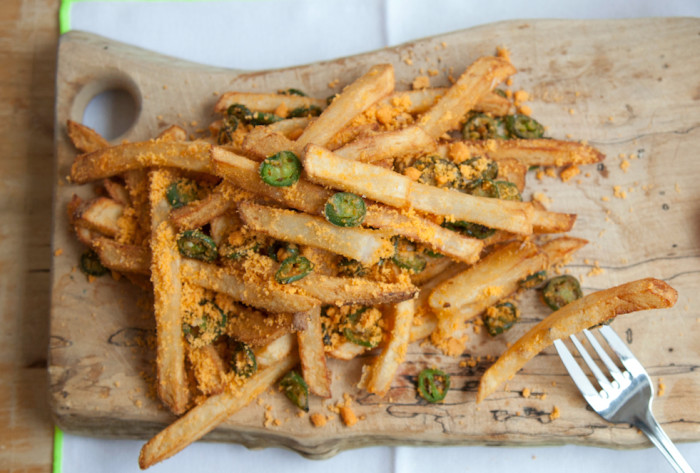 Cheese fries are one of life's great treats. What's not to love about the combination of cheese and fries? At least in theory. Unfortunately, in practice, cheese fries can often fall flat. Unless you intend to serve fries in a single layer on a large platter, you'll probably have trouble achieving even cheese distribution. And you know what I hate? Ordering cheese fries only to be left with half a basket of uncheesed fries after having worked through the glorious top layer. The other way you normally see cheese fries served is with some sort of canned stadium nacho-cheese sauce. But really, just…don't. Don't do that to yourself. Look at me: You're better than that.

Lucky for you, after much time spent at a whiteboard with some of the world's greatest minds (thanks, Drs. Tyson and Hawking; your contributions were invaluable), I've solved the equation. The key is cheddar powder. It does take some time to make: about a day. But the results are so worth it. And the powder will keep in the fridge for up to 30 days, so you can sprinkle it on popcorn and, heck, mac and cheese if you want.
Ingredients
1/2

pound

extra-sharp cheddar, grated

3

pounds

russet potatoes

5

Serrano chilies

frying oil

coarse salt
Directions
Spread out the grated cheese in a single layer on a silicone liner on a baking sheet. If you don't use a silicone liner, you'll never fully recover the cheese from your tray.
Bake at your oven's lowest setting (mine was 175°F). After about 2-3 hours, you'll see a puddle of grease. Pull the cheese out and mop up the oil with paper towels — not because grease is bad, but because it will keep your cheese from drying properly.
Bake for another 7-8 hours, for a total of 10 hours. If your oven's lowest temp is higher, the time will be reduced, but make sure you keep an eye on it so it doesn't burn.
Remove the baking sheet and cool for at least 30 minutes, then peel the resulting giant cheese cracker off the silicone liner. Break it into bits small enough to fit into a spice grinder, and pulse until you have a nice powder, just a few seconds. Feel free to keep any extra around in the fridge in a tightly sealed container. It'll last as long as regular cheddar, if not a bit longer because it's been dehydrated.
Cut the serranos into thin slices, add to a screaming hot skillet with some neutral oil (vegetable, peanut, canola, etc.) and cook until browned on the edges. Remove from heat, drain excess oil and set aside.
Cut your fries (about 1/4-1/3 inch thick) and put them in a nonreactive bowl full of cold water.
Let them soak for about an hour, then remove and dry well with a clean dish towel.
Set your fryer to about 325°F (or use a thermometer with a heavy-bottomed, high-sided pan).
Cook for about 5 minutes, turning a few times if you're using a pan instead of a fryer.
Take the fries out, drain on paper towels and cool for a few minutes. They won't look ready yet — that's because you're about to fry them again.
Turn the heat up to 375°F, and once hot enough, put the fries back in for another 1-2 minutes, or until golden brown.
Toss with the cheddar powder, salt, and serranos, and serve immediately.
Find more fries on Food Republic: