Very Famous Sandwiches: Ultimate Chicken Shawarma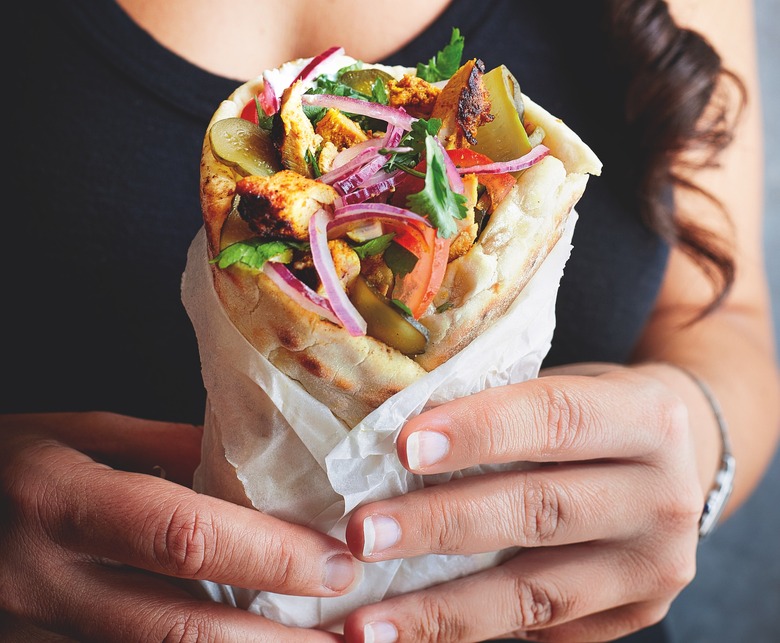 We may receive a commission on purchases made from links.
British-Iranian chef Sabrina Ghayour is an award-winning chef, writer and cookbook author famous for her London supper club and popular cooking shows. When it comes to Middle Eastern food from across the region, she's the authority. Pick up a copy of her vibrant, diverse and storied new collection of recipes and add a new favorite to your repertoire. If you've never made chicken shawarma, you're missing out on one of the most famous sandwiches in the world.
Very Famous Sandwiches: Ultimate Chicken Shawarma
If you've never made chicken shawarma, you're missing out on one of the most famous sandwiches in the world. Ready to roll?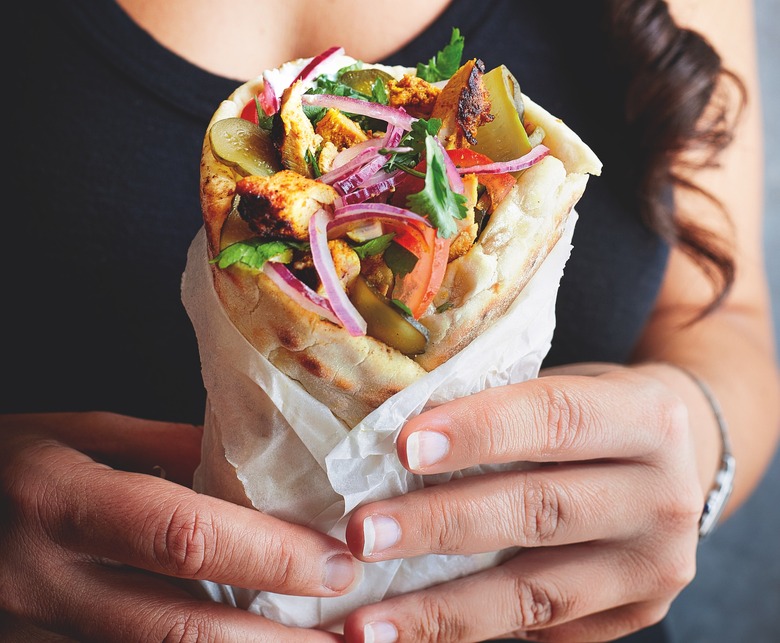 Ingredients
1 1/4 pound boneless, skinless chicken thigh fillets
1 teaspoon ground turmeric
1 teaspoon ground cinnamon
1 teaspoon ground coriander
1 teaspoon ground cumin
1 teaspoon cayenne pepper
4 fat garlic cloves
Finely grated zest of 1 unwaxed lemon
juice of 1/2 lemon
4 tablespoons Greek yogurt
olive oil
Maldon sea salt flakes and freshly ground black pepper
6-8 round flatbreads of your choosing (or use pitas)
3/4 cup Greek yogurt
4 large tomatoes
1 large red onion
1 small bunch fresh cilantro (about 1 ounce)
Gherkins or cucumbers in brine (as many as you like)
Directions
Place the chicken thigh fillets in a bowl. Add the spices, garlic, lemon zest and juice, yogurt, a good drizzle of olive oil (about 2 tablespoons), and a generous amount of salt and black pepper. Using your hands, work the marinade into the chicken, ensuring it is mixed evenly and coats every exposed part of all the fillets. Cover the bowl with plastic wrap and marinate for at least 30 minutes or overnight in the refrigerator.
Drizzle a little olive oil into a large frying pan set over medium heat. When the oil is hot, add the chicken—reduce the heat if the thighs begin to cook too quickly. Fry gently until the thighs have a nice, deep golden-brown crust and are cooked through, 10–12 minutes on each side. When done, remove and cut the thighs crosswise very thinly.
To serve, lay a flatbread on your work surface. Spread Greek yogurt across the surface. Place a line of tomato half-moons down the middle. Stack some shredded chicken over the tomatoes, then follow with the onion, cilantro, and a few slices of pickled cucumbers. Fold up the bottom of the flatbread, then fold over the sides to enclose the filling as tightly as possible. Repeat with the remaining flatbreads and filling. To make eating the shawarmas a little easier, and to hold the juices in, wrap the base with some doubled-up waxed or parchment paper, or a square of aluminum foil.