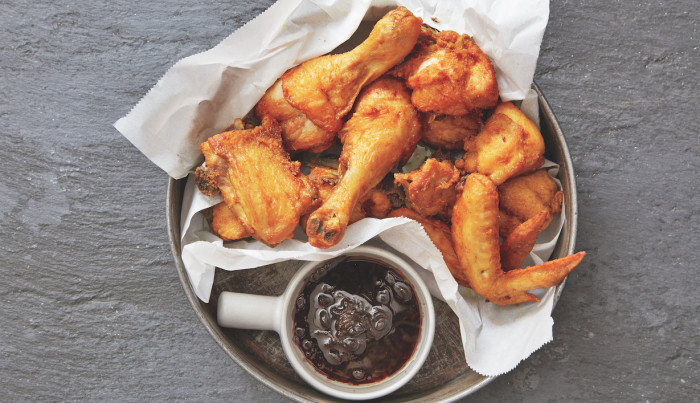 Think you can't cook Malaysian food? Too complicated? Wouldn't know where to start? Think again! This spicy, tangy, vibrant cuisine is well within reach if you have a copy of chef Christina Arokiasamy's new cookbook. She served as Malaysia's first official Food Ambassador to the U.S., so take her word for it. This turmeric fried chicken is as addictive to crunch on as it is beautiful to look at. 
Authentic Malaysian ayam goreng, or fried chicken, eaten at least once a week at our home, is typically made with a simple combination of turmeric, ground chilies, salt, and pepper. The turmeric also enhances that appealing golden-brown color you want in perfect fried chicken. I usually start with a whole chicken and cut it into 12 pieces, since small pieces are more flavorful than large because they get coated with more spice.
Ingredients
1

whole chicken (4 pounds), cut into 12 pieces

1 1/2

teaspoons

ground turmeric

1

teaspoon

ground chilies

2 to 3

teaspoons

salt

1/2

teaspoon

freshly ground pepper

Canola oil for deep frying

Sweet Soy and Shallot Sambal, for serving (optional)
Directions
For the fried chicken
Put the chicken pieces in a large bowl and sprinkle with the turmeric, ground chilies, salt, and pepper. Rub the chicken thoroughly with the spices. Cover and refrigerate for at least 3 hours, or preferably overnight.

Heat 4 inches of oil in large wok or a deep pot over medium-high heat.

When the oil is hot (you can test the oil with a chopstick — if the oil bubbles around the stick that means the oil is ready), add the chicken, a few pieces at a time, without overcrowding the wok.

Cook until the chicken is thoroughly cooked through and golden brown, 12 to 15 minutes, turning the chicken after about 5 minutes.

Drain on a paper towel–lined plate or rack and repeat with the remaining chicken pieces, taking care to bring the oil back to temperature before each batch.

Serve hot, with sambal on the side if you like.