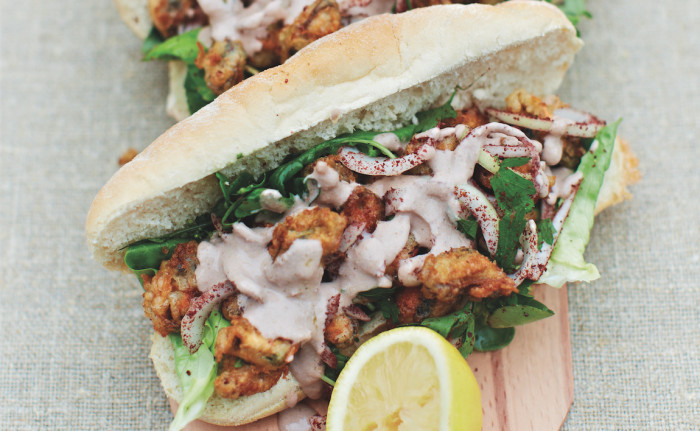 There are huge metal round pans filled with plump midye (mussels) frying in every street food market and outside fish restaurants, tempting passers-by along the Bosphorus. It's a favorite Istanbul snack or hot mezze — a few freshly fried battered mussels threaded onto wooden skewers and served with a squeeze of lemon and some tarator dipping sauce. My version turns it into a more substantial lunchtime meal.
Ingredients
About 40

mussels, washed and beards removed

vegetable oil for frying

sea salt and freshly ground black pepper
Batter
1

cup

all-purpose flour

2

egg yolks, lightly beaten

1

cup

beer
Tarator sauce
1/3

cup

shelled walnuts

1/3

cup

fresh bread crumbs

1

garlic clove, peeled and finely chopped

1 1/2

tablespoons

red wine vinegar

1/4

cup

extra-virgin olive oil
Onion and sumac salad
1

small onion, peeled and thinly sliced

1

teaspoon

sumac

2

tablespoons

fresh flat-leaf parsley, roughly chopped

1

tablespoon

extra-virgin olive oil
To serve
1

head

romaine lettuce, roughly chopped

1

small bunch

of arugula

4

bread rolls, cut lengthwise

1

lemon, cut in half
Directions
For the batter
Put the flour in a bowl, add the egg yolks, and mix well.

Slowly pour in the beer, whisking continuously until you have a smooth batter. Set it aside to rest for 30 minutes.
For the tarator sauce
Put the walnuts in a food processor and blend to a rough paste.

Add the bread crumbs, garlic, vinegar, and a few tablespoons of cold water, and continue to blend the mixture, slowly adding the olive oil in a steady stream until smooth.

Transfer to a bowl and season generously with sea salt and freshly ground black pepper. Refrigerate until ready to use.
For the onion and sumac salad
Combine all the ingredients in a bowl and season generously with sea salt and freshly ground black pepper.
For the mussels
Place about 1 1/4 cups water in a large pan over high heat. Bring to a boil, then add the mussels. Cover with a lid and steam the mussels until they have all opened — about 5 minutes. Discard any that have not opened. Carefully transfer the mussels to a bowl with a slotted spoon. Let them cool, then remove the mussels from their shells and place them on a plate.

Pour enough vegetable oil into a saucepan or wok to reach a depth of 1 1/4 to 2 inches. Heat over medium heat until a cube of bread dropped in the oil browns in 30 seconds.

Dip each mussel into the batter with your fingers until well coated. Drop them, in batches, into the hot oil and fry for a few minutes until the batter is golden brown. Transfer them to paper towels to drain.
For the assembly
Place the lettuce and arugula in the cut rolls, divide the mussels between the rolls, drizzle with tarator sauce, and sprinkle the onion and sumac salad on top. Serve immediately with a squeeze of lemon.