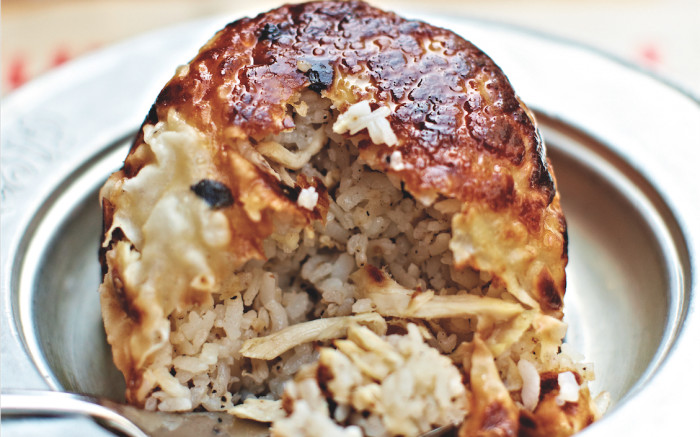 Food writer and editor Andy Harris's latest book, Eat Istanbul, is full of recipes gathered while eating his way across the country with renowned photographer David Loftus. From the stunning art to stories detailing the vast array of ingredients used in this vibrant, varied and incredibly photogenic cuisine, Eat Istanbul is an instant classic for any aficionado of Mediterranean and Middle Eastern food, or someone who simply loves to take pictures of their culinary handiwork. Add this chicken and rice timbale to your leftover chicken repertoire and watch the praise roll in. 
Perdeli pilav means "veiled pilaf," and it's a dish found on many restaurant menus: a delicious chicken and rice pilaf encased in pastry dough and baked in tin molds until golden brown. It makes a great dinner party appetizer or midweek meal if you've got some leftover roast chicken to use up. Often the pastry crust is also studded with almonds.
Ingredients
1

3 1/2-pound

whole chicken

2

fresh bay leaves

1

large carrot, peeled and chopped

1

medium onion, peeled and quartered

2

stalks of

celery, peeled and chopped

3

sprigs

of fresh flat-leaf parsley

6

whole black peppercorns

6

whole cloves

sea salt and freshly ground black pepper
Pilaf
3 1/2

tablespoons

unsalted butter

2

tablespoons

extra-virgin olive oil

2

medium onions, peeled and thinly sliced

1/2

teaspoon

dried mint

1

heaping cup

long-grain white rice, washed

1/3

cup

blanched almonds

3

large sheets of phyllo pastry dough
Egg wash
1

egg, lightly beaten

2

tablespoons

melted unsalted butter
Materials
6 x 1 1/4-cup dariole molds or ramekins, greased with olive oil
Directions
For the rice pies
Put the chicken in a large saucepan or casserole dish along with the bay leaves, carrot, onion, celery, parsley, peppercorns, and cloves. Cover with cold water and bring to a boil over medium heat. Lower the heat, cover with a lid, and simmer for 1 to 1½ hours until cooked through. Remove from the heat and let it cool for 30 minutes in the pan.

Transfer the cooled chicken to a cutting board. Peel off and discard the skin, remove all the meat, and shred it into a large bowl. Strain the chicken stock, discarding the vegetables, and set aside 2 cups of it in a measuring cup. Freeze any remaining stock to use another time.

For the pilaf, heat the butter and olive oil in a pan over medium heat and sauté the onions and mint for 5 minutes, or until softened. Add the rice and almonds and cook, stirring, for 5 minutes. Add the reserved chicken stock and season generously with sea salt and freshly ground black pepper. Bring to a boil, then lower the heat, cover with a lid, and simmer for 15 minutes, or until the rice is cooked and has absorbed most of the liquid. Let it cool for 5 to 10 minutes. Preheat the oven to 400˚F.

Add the shredded chicken to the cooled pilaf and mix well.

For the egg wash, whisk the egg and butter together in a small bowl. Place the phyllo sheets on a flat surface, cut them in half, and cover with a damp cloth to prevent them from drying out. Place a piece of phyllo inside each greased dariole mold, pushing it into the sides and leaving the excess phyllo hanging over the edges. Spoon the pilaf into each lined mold, pressing it in tightly. Fold the excess phyllo over the top and brush it with the egg wash.

Place the molds in a roasting pan and bake in the preheated oven for 20 minutes, or until the top is golden brown. Let cool for 5 minutes before carefully inverting the molds onto plates to reveal the "veiled pilafs." Serve warm.