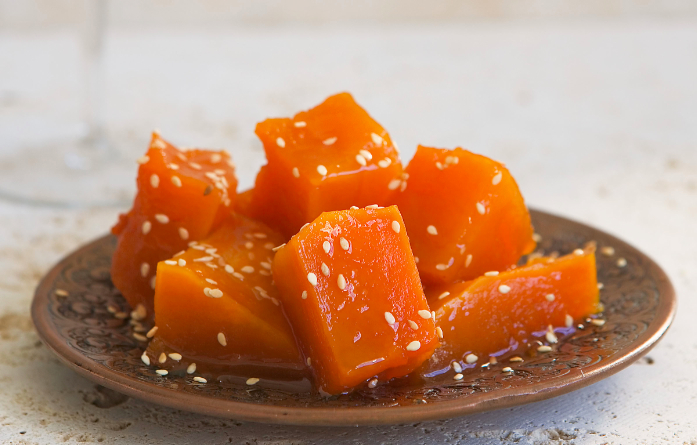 As we mentioned earlier, we're just a month out from Thanksgiving. Whoa. Every weekday afternoon between now and Thanksgiving Day, Thursday, November 22, we'll feature a recipe that can add another dimension to your holiday table, or make you The Man if you're just bringing a dish to a gathering.
This candied squash dessert (along with candied green walnuts, candied tomato and candied baby eggplant) is a feature on the menu at popular Istanbul restaurant Ciya. This recipe is a scaled-back, more user-friendly version — to make it the traditional way requires roasting the pumpkin with calcium hydroxide (or slaked lime).
Ingredients
2

cups

superfine sugar

3 1/4

pounds

winter squash, peeled, seeded and cut into 2-inch pieces

sesame seeds, to serve

whipped heavy cream, to serve
Directions
Put the sugar, squash and 1/2 cup water in a large saucepan and slowly bring to a simmer.
Cover the pan and cook over low heat for 30 minutes, or until the sugar has dissolved and the squash has given up its juices.
Remove the lid and simmer gently for about 1 1/2 hours, or until the liquid has reduced and thickened.
Remove from the heat and cool the squash in the syrup.
The candied squash can be stored in an airtight container in the refrigerator for up to 2 weeks.
Serve the squash at room temperature with sesame seeds sprinkled over and a dollop of cream on the side.