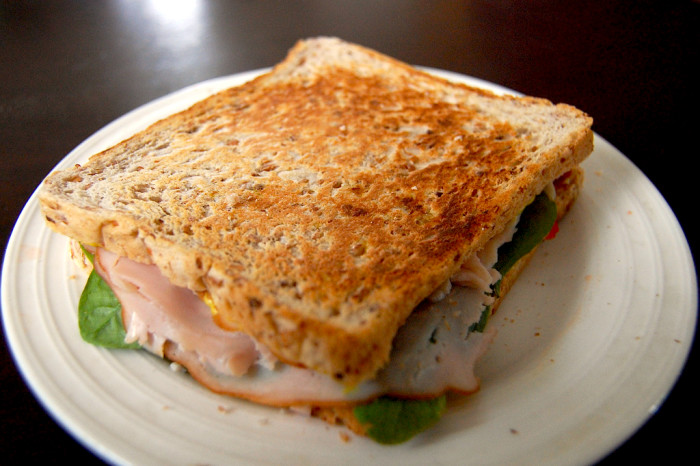 This recipe for re-purposing Thanksgiving leftovers feeds four people, but you might want to double everything. A play on the traditional Thanksgiving sandwich, this panini's contents are nice and hot, covered in melted cheese and spiked with the perfect acidity of dill pickles — two additions we're pretty sure nobody saw on their Turkey Day spread. We like it.
Don't fret if you don't have enough of everything to follow the recipe exactly — remember the spirit of Thanksgiving: just eat it.
Ingredients
1/4

cup

mayonnaise, (plus more for grilling sandwich)

1

tablespoon

brown mustard

1

cup

cranberry sauce

Salt and pepper

8

slices

sourdough or other sturdy bread

8

slices

Swiss cheese

8

thin slices

deli ham

2

lbs

leftover turkey meat, sliced

4

dill pickles, sliced lengthwise
Directions
In a mixing bowl, whisk together the mayonnaise, brown mustard and cranberry sauce. Season with salt and pepper

Open 2 slices of sourdough bread and spread the cranberry mayonnaise mixture on the inside of both pieces of bread.
On one of the slices, in the following order, layer 1 slice of swiss cheese, 2 slices of deli ham, 2 slices of leftover turkey meat, 1 slice of dill pickle and 1 slice of swiss cheese. Close the sandwich with the other piece of sourdough bread.
Dress the outside of sandwich (both top and bottom) with mayonnaise.
On a medium high griddle, toast the sandwich on both sides until it is hot and the cheese is melted.