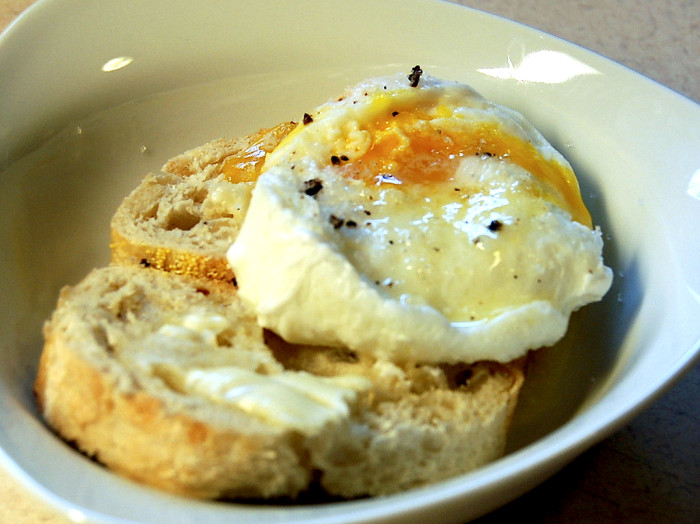 Poaching an egg is something every cook should master. The key is the vinegar. Without it you'll never have success. A little truffle oil takes these delicate domes from humble beginnings to haute cuisine.
The 7/20: If you have these items in your arsenal, recipes categorized by 7/20 can be made with 7 or fewer additional ingredients in only 20 minutes of active cooking time.
Ingredients
1/2

teaspoon

salt

2

tablespoons

white wine vinegar

8

large

eggs

4

tablespoons

Parmesan cheese, grated

1

teaspoon

truffle oil
Toast
8

slices

ciabatta or baguette

olive oil, for brushing
Directions
For the toast:
Brush each side of bread with olive oil. Place in a large medium hot saute pan for 30 seconds or until golden brown on each side. Remove from the pan and sprinkle with salt.
For the eggs:
In a large, heavy-bottomed saucepan bring 4 cups water to a boil.
Add the vinegar and 1/2 teaspoon of salt. Reduce heat to a very low simmer.
Break 1 egg into a small cup or ramekin and gently slide it into the water; repeat with the remaining eggs.
Poach until the whites are firm and translucent, about 2 to 3 minutes. Remove with a slotted spoon, strain, then transfer one egg on top of each piece of toast.
Sprinkle the top of each egg with the grated Parmesan, the truffle oil and a little black pepper.