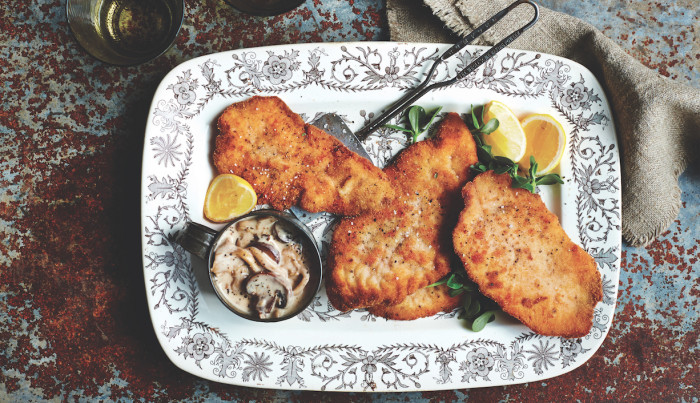 Fourth-generation Texan Jessica Dupuy penned a culinary ode to her home state's many food cultures, all alive and well. Whether it's tacos, barbecue or something with a little more European heritage, like these breaded turkey cutlets with rich mushroom gravy, you can be sure you're eating authentic heritage Texas chow.  
These breaded cutlets are a delicious way to ease into the preparation of game meats. Pounded thin, breaded, and pan-fried, these tender cuts are served with a rich sauce and are sure to win over anyone. The method doesn't have to be limited to turkey breasts. It is also great for venison, feral hog loin and leg muscles, thinly sliced and pounded, or even duck or goose breasts, skinned and flattened. The mushroom gravy pairs nicely with most game.
Ingredients
1

large egg, beaten

1/2

cup

milk

1

cup plus 2 tablespoons

all-purpose flour, divided

1

skinned and boned turkey breast, 1 1/2 pounds, cut into 6 (1/4-inch thick) slices

1/2

teaspoon

kosher salt

1/2

teaspoon

freshly ground black pepper

3

cups

soft, fresh or fine, dry bread crumbs

1/4

cup

unsalted butter

12

ounces

assorted mushrooms, quartered (such as oyster and cremini)

2

garlic cloves, chopped

1

cup

chicken broth

1

cup

heavy cream

Pinch of

ground nutmeg

1

tablespoon

fresh lemon juice

1/2

cup

olive oil

lemon wedges

Garnish: purslane or watercress leaves
Directions
For the cutlets
Whisk together egg and milk in a shallow bowl. Place 1 cup flour in a separate shallow bowl. Sprinkle turkey with salt and pepper. Dredge turkey in flour, dip in egg mixture, and dredge in bread crumbs, pressing gently to adhere.

Melt butter in a saucepan over medium-high heat; add mushrooms and cook, stirring occasionally, 5 minutes or until lightly browned. Add garlic, and cook 30 seconds. Stir in remaining 2 tablespoons flour.

Gradually stir in broth, stirring constantly to avoid lumps. Bring to a light boil; reduce heat and add cream and nutmeg. Simmer 5 minutes or until thickened. Remove from heat, and stir in lemon juice, kosher salt and freshly ground pepper to taste. Keep warm.

Cook turkey, in batches, in hot oil in a large skillet over medium-high heat, 3 minutes on each side or until golden brown and done. Transfer to a paper towel–lined baking sheet. Serve turkey with mushroom sauce and lemon wedges.