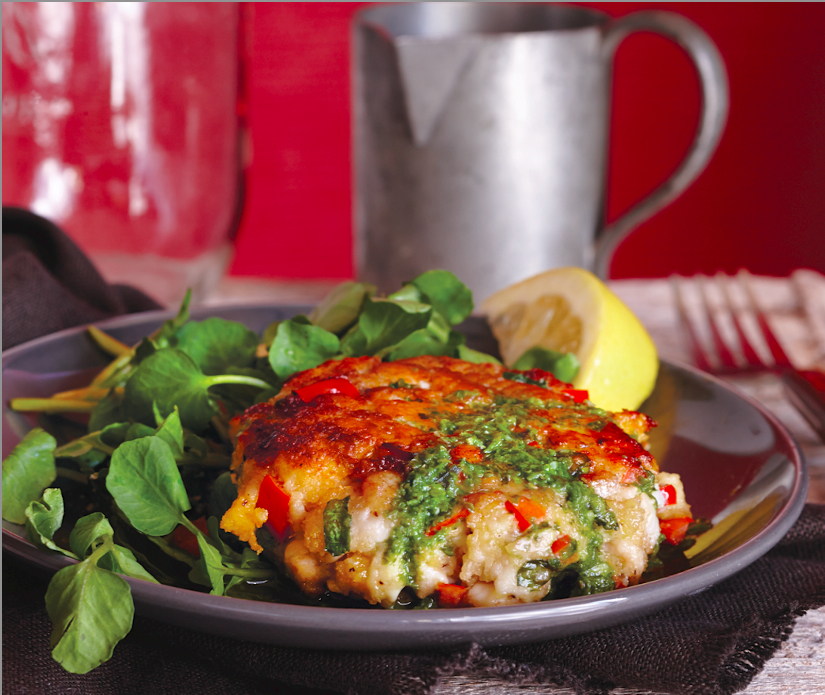 You can trust a cookbook from The Lodge Company as much as its beautifully seasoned and totally indestructable cast-iron cookware. This hefty book holds 200 Dutch oven, skillet and grill pan recipes from chefs across the country. Renew your dedication to the sturdiest pan in the kitchen with a few of these curated dishes, like these crispy, savory fried trout cakes.
Ingredients
Trout Cakes
1

pound

skinless U.S. farm-raised trout fillets, pin bones removed

1/4

cup

panko breadcrumbs

1/4

cup

red bell pepper, cut into small dice

grated zest of 1 lemon

2

tablespoons

fresh basil, chopped

1

clove

garlic, minced

1

large

egg, beaten

1

teaspoon

fine sea salt

1

tablespoon

olive oil
Watercress Salad With Basil Vinaigrette
8

cups

watercress, rinsed and spun dry

1

cup

packed fresh basil leaves

1

clove

garlic, peeled

generous pinch

fine sea salt

freshly ground black pepper, to taste

1/4

cup

olive oil, plus more if needed

2

tablespoons

champagne vinegar
Directions
For the basil vinaigrette:
Place all the ingredients in a small food processor, and press until pureed.
Add 1 to 2 tablespoons more oil, if desired, after tasting.
Refrigerate in an airtight container for up to 3 days.
Remove from the refrigerator 20 to 30 minutes prior to using so the olive oil is not solidified. Makes 1/2 cup.
For the trout cakes:
Place the trout fillets in the freezer until they begin to firm up but are not frozen, about 30 minutes.
While the fillets chill, combine the panko, bell pepper, lemon zest, basil, garlic and salt in a medium bowl.
Coarsely chop the chilled trout and add to the bowl. Stir to combine.
Divide the mixture into 4 equal portions, and shape the cakes about 1/2-inch thick.
Heat the oil in a Lodge 12-inch cast iron skillet over medium heat until it shimmers.
Add the trout cakes to the pan, and cook until golden brown, about 4 minutes per side.
Remove to a paper towel-lined plate to stand for 5 minutes.
For assembly:
To serve, toss the watercress with 1/4 cup of the vinaigrette, if desired.
Find more trout recipes on Food Republic: