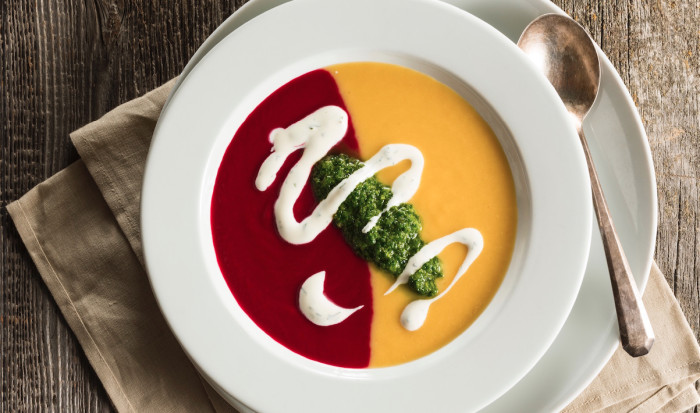 The Twin Cities are home to a sizable Ukrainian community. Their devotion to family and to the preservation of their language and culture has always held a special attraction. On Hennepin Avenue in the northeast Minneapolis neighborhood where they first settled, there's a famous Eastern European deli and restaurant called Kramarczuk's, founded by war refugees in 1954. It remains a mecca for sausage lovers to this day, and was a James Beard Award America's Classic honoree in 2013.
I was introduced to Ukrainian borscht 20 years ago in a church kitchen. It was a rustic stew with chunks of beets, cabbage and beef floating in delectable broth topped with sour cream. This version was inspired by those humble origins. I simply refined it for those who tend not to dine at church suppers. (They don't know what they're missing!) Of course, you can make this with beets of just one color, but it's fun to pull out all the stops and prepare the whole trio.
Ingredients
Red borscht
1/4

cup

Grapeseed oil

1/4

cup

peeled and diced carrots

1/4

cup

diced onions

1/4

cup

diced celery

2

small garlic cloves, peeled and crushed

1

shallot, peeled and sliced

1

pound

red beets, roasted, peeled and diced

1/4

cup

dry red wine

1

cup

chicken stock

1

tablespoon

chopped Italian parsley

1

teaspoon

fine sea salt

1/2

teaspoon

freshly ground white pepper

1

cup

Dill Crème Fraiche
Green borscht
1/2

pound

sorrel, stemmed

1/2

pound

spinach, stemmed

1/2

cup

diced onions

1

small sweet onion, peeled and chopped

4

ounces

basil leaves, stemmed

1

tablespoon

freshly squeezed lemon juice

1/2

cup

cold Court-Bouillon or vegetable stock

1

teaspoon

fine sea salt

1/2

teaspoon

freshly ground white pepper
Dill crème fraîche
1

cup

creme fraiche

2

tablespoons

chopped fresh dill

1

teaspoon

sea salt

1/2

teaspoon

freshly ground black pepper
Directions
For the borschts
To prepare the red borscht, heat the oil in a large nonreactive pot over moderately low heat. Add the carrots, onions, celery, garlic and shallot and sweat until tender, about 5 minutes. Add the beets, wine and stock. Increase the heat and simmer, covered, for 30 minutes. Transfer to a blender, working in batches if necessary, and puree until smooth. Season with the salt and pepper.

For the gold borscht, follow the instructions for red borscht in the same quantities, substituting gold beets for the red, white wine for the red wine, and 1/2 teaspoon freshly ground nutmeg for the parsley.

For the green borscht, in a food processor, combine the sorrel, spinach, onions, basil, lemon juice, court-bouillon, salt and pepper. Pulse to a fine puree; a slightly coarse texture is also good. Refrigerate until needed.

To serve, reheat the red and gold borschts in separate pans if necessary. The green borscht is served uncooked. It's important that you work with confidence when plating the tricolor borscht. Using two 4-ounce ladles, simultaneously pour 1 ladle of red borscht and 1 ladle of gold borscht into opposite sides of the same heated shallow soup dish. This takes a little practice, but don't be intimidated. If done correctly, the bowl will have roughly two equal sides of red and gold borscht. Swirl 1 ounce of the green borscht over the top, then swirl in the crème fraîche. Serve immediately.
For the dill crème fraîche
In a stainless steel bowl, combine the crème fraîche, dill, salt and pepper. Stir with a spoon to mix well, cover and refrigerate until ready to use.