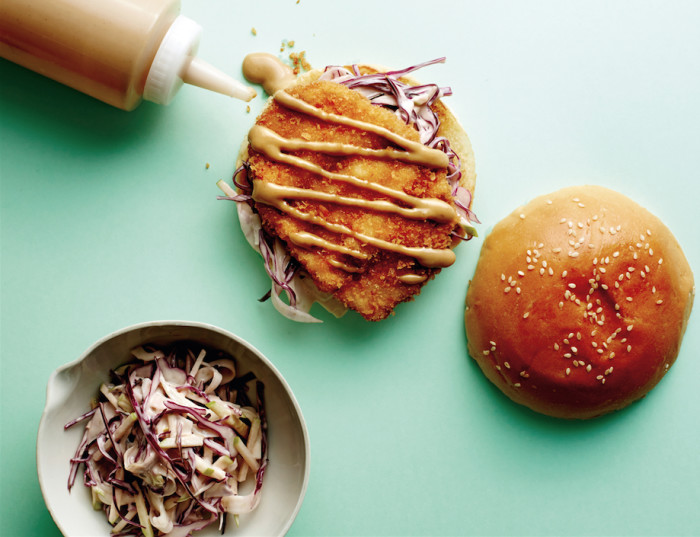 Acclaimed chef and burger expert Daniel Wilson's The Burger Lab is an extensive new book that chronicles the long and storied history of the hamburger. From its humble beginnings to its colonization of the world, this is one iconic dish worth a deep-dive. Packed with photos, recipes and stories about one of the most popular foods in the world, The Burger Lab is a thorough education in what it truly means to be a patty on a bun. If you know how to make Wilson's tonkatsu pork burger, you're well on your way to becoming a burger master.
Let's be honest: crumbing food makes just it better! Japanese crumbed pork (tonkatsu) is bloody delicious. Even better is tonkatsu sauce, which is basically Japanese barbecue sauce, widely available from Asian grocers, along with the panko breadcrumbs. Throw in some slaw and some buns and you've got a real crowd-pleaser.
Ingredients
vegetable oil, for deep-frying

4

soft burger buns, cut in half

Heaping

cup

tonkatsu mayo
Tonkatsu mayo (makes 4 cups)
3

cups

mayo

1 1/3

cups

tonkatsu sauce
Fennel and Apple Slaw
1

fennel bulb, shaved

1

green apple, peeled and grated

1/4

red cabbage, thinly sliced

1/2

cup

mayo
Tonkatsu pork
1

pound 2 ounces

pork loin, trimmed of all sinew

1

free-range egg

1/2

cup

milk

all-purpose flour, for dusting

2

cups

panko breadcrumbs
Directions
For the tonkatsu mayo
Mix the ingredients together and keep in an airtight container in the fridge for up to 1 month.
For the burger and slaw
For the slaw, mix all the ingredients together in a bowl. Season with salt and freshly ground black pepper.

For the pork, cut the loin into thin slices and beat lightly with a mallet, between sheets of plastic wrap. You want the pork to be about 1⁄8-inch thick, and 1 1/4 inches x 1 1/2 inches in size.

Whisk together the egg and milk. Dredge the pork in the flour, then dip in the egg wash, then the panko crumbs, making sure you press the crumbs into the pork well.

To serve, heat a frying pan over a medium heat and add about 1/4- inch of oil. Allow the oil to heat, then carefully lower the crumbed pork in. Cook for 2–3 minutes, or until golden, then turn over and cook until golden on the other side. Remove from the pan and immediately drain on paper towel. Season with a little salt, then build your burgers.