Comfort Food: Tomato Soup With Goat Cheese Gnudi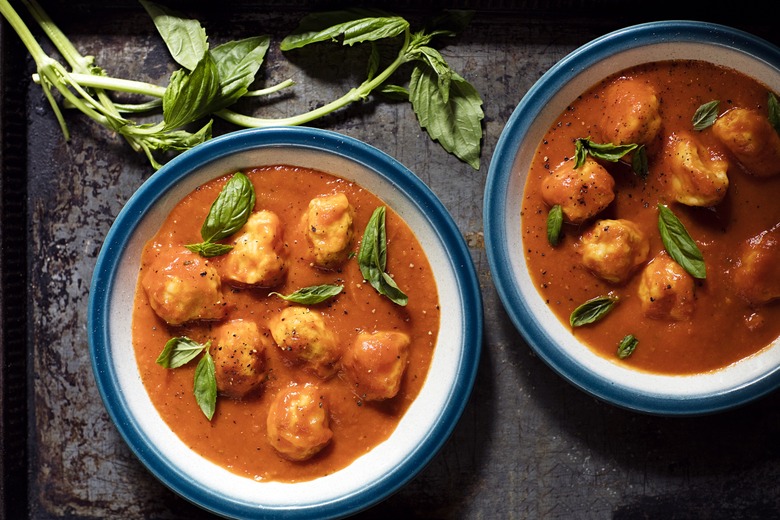 We may receive a commission on purchases made from links.
Joe Yonan is the renowned, award-winning dining editor of The Washington Post, and author of a phenomenal new cookbook that asks some of America's most beloved chefs: What do you make at home? The result is a collection of simple, easy-to-make recipes — because who wants to spend hours at the stove on their day off, right? This highly comforting dish from star chef Mario Batali takes the idea of pasta, marinara sauce, basil and cheese and expertly spins them all together in one delicious bowl of tomato soup teeming with tender goat cheese gnudi.
Comfort Food: Tomato Soup With Goat Cheese Gnudi
Mario Batali spins classic Italian ingredients together in one delicious bowl of tomato soup teeming with tender goat cheese gnudi.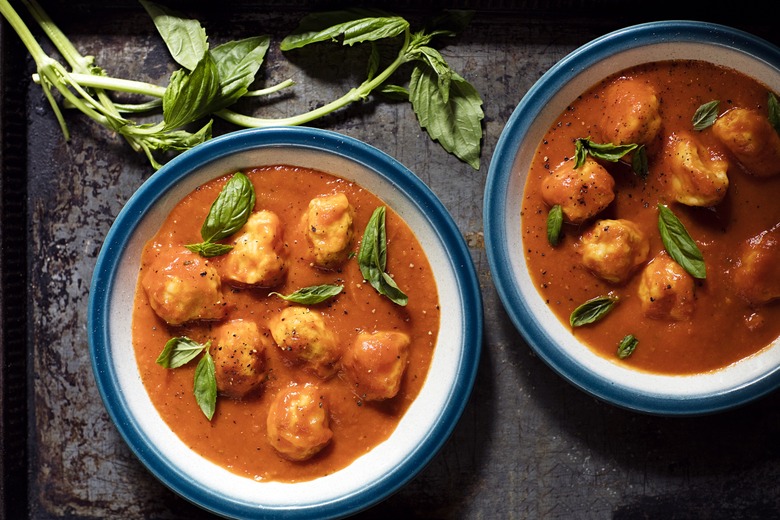 Ingredients
2 tablespoons extra-virgin olive oil
2 tablespoons unsalted butter
1 red onion
4 large cloves garlic
1/4 cup chopped dry-packed sun-dried tomatoes
3 tablespoons all-purpose flour
3 cups low-sodium chicken broth
1 large can whole San Marzano tomatoes
1 tablespoon sugar
1 tablespoon fresh thyme leaves
kosher salt and freshly ground pepper
3/4 pound fresh soft goat cheese (1 1/2 cups)
3 large eggs
1/2 teaspoon freshly grated nutmeg
1 teaspoon kosher salt
1 teaspoon freshly ground black pepper
5 tablespoons all-purpose flour, plus 1/2 cup for dredging
Leaves from 1 bunch fresh basil for garnish
Directions
:::soup:::
In a large pot, heat the oil and butter over medium heat until the butter melts. Add the onion, garlic, and sun-dried tomatoes and cook, stirring occasionally, until soft but not browned, about 6 minutes. Add the flour, stir to coat the onion and garlic, and cook, stirring, for 5 minutes more.
Add the broth, tomatoes and their juices, sugar, and thyme. Using a wooden spoon, smash the tomatoes against the side of the pot to break them up. Bring to a boil over medium-high heat while stirring the mixture. Reduce the heat to low, cover, and simmer for 40 minutes.
:::Gnudi:::
While the soup simmers, bring a large pot of salted water to a boil. Set up an ice bath. Sprinkle ½ cup flour on a baking sheet.
In a large bowl, mix together the goat cheese, Parmigiano-Reggiano, and eggs. Stir in the nutmeg, salt, pepper, and flour. Pinch the mixture into pieces the size of a quarter (about 1 inch), then drop them on the floured baking sheet. Gently form into balls and coat lightly with the flour to prevent sticking.
Slide the dumplings into the boiling water, being careful not to crowd them in the water; work in batches in necessary. After they float to the top and have cooked for about 4 minutes, remove the dumplings using a slotted spoon and place them in the ice bath to set. When completely chilled, transfer to a tray.
In a blender, blend the soup in batches until smooth. Rinse the pot and return the soup to the pot. (Or blend the soup in the pot using an immersion blender.) Season with salt and pepper. Set the pot over medium heat and return the soup to a high simmer. Add the chilled gnudi and cook over medium-low heat for 10 minutes. Do not allow to boil.
Serve warm, with a little of the basil sprinkled over each serving.