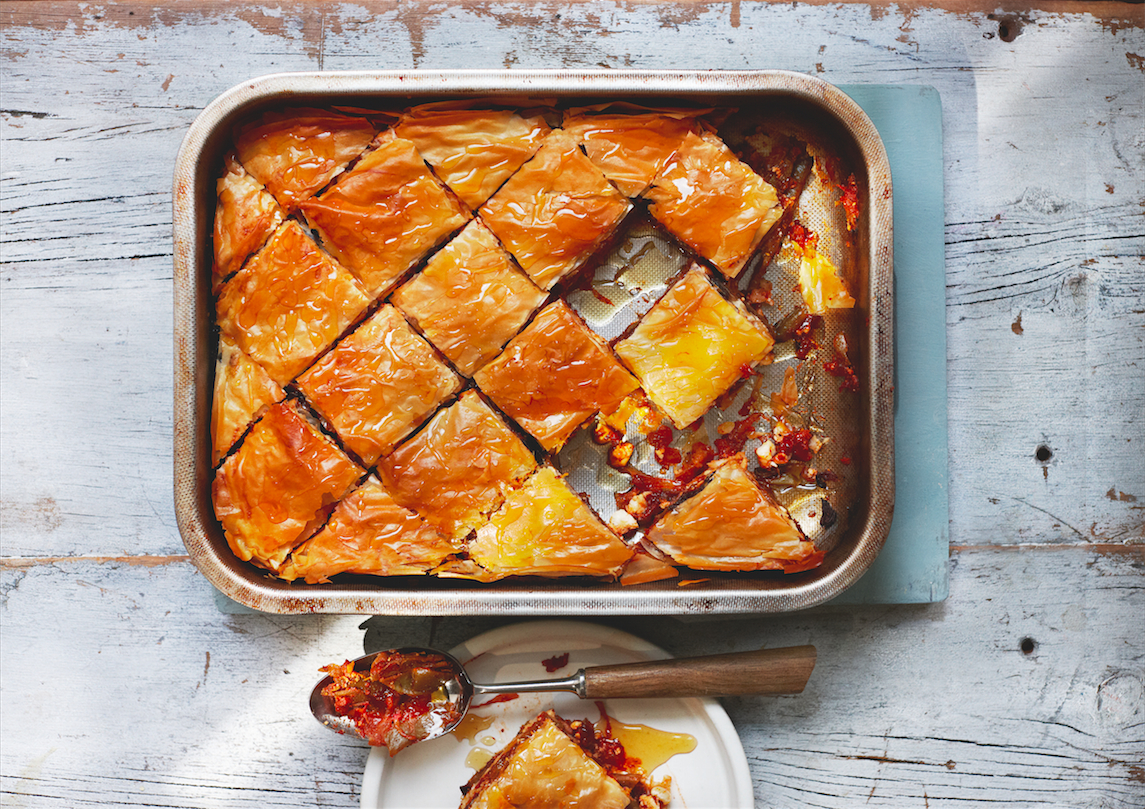 World-renowned chef and author Maria Elia's new Greek cookbook, Smashing Plates, was inspired by the cuisine at her father's tavern in Cyprus. Greek pub food. Sound like a winning formula? We combed through this page-turner and came up with a few recipes to share, like this savory summer baklava.
This savory baklava is delicious eaten hot with roast lamb or broiled sardines, or makes an excellent vegetarian main dish, served with a purslane or watercress, olive, and caperberry salad with lemon dressing. Served at room temperature, it even makes a great picnic food. For the best results, make the filling the day before to allow the flavors to infuse.
Ingredients
1/2

cup

olive oil

2

Spanish onions, halved and finely sliced

2

cloves

garlic, finely chopped

2

teaspoons

ground cinnamon

5

tablespoons

tomato paste

10

vine-ripened plum tomatoes, skinned and roughly chopped

1

pound 2 ounces

string beans, cut into 1 1/2-inch lengths

a pinch of

sugar

1

bunch (about 1 ounce)

fresh dill, finely chopped (or 2 tablespoons dried)

sea salt and freshly ground black pepper

2/3

cup

water

9

sheets

filo dough

7

tablespoons

butter, melted

1/2

cup

Greek or Medjool dates, pitted and finely sliced

1 2/3

cups

feta, crumbled

6

tablespoons

honey
Directions
Heat the olive oil in a large, heavy-bottomed saucepan over low heat and sauté the onions until softened and sticky; this can take up to 20 minutes.
Add the garlic, cinnamon and tomato paste and cook for another 2 minutes.
Add the tomatoes and their juices and cook over medium heat for about 8 minutes, before adding the string beans, sugar, dill, a pinch of sea salt and the water.
Reduce the heat to a simmer and cook the beans for about 40 minutes, stirring occasionally, until the beans are soft and the sauce is nice and thick.
Check the seasoning and cool before assembling.
Preheat the oven to 350°F.
Unfold the dough and cover with a damp cloth to prevent it from drying out.
Brush a baking sheet (about 12 x 8 inches) with melted butter.
Line the pan with a sheet of filo (cut to fit if too big), brush with butter and repeat until you have a three-layer thickness.
Spread half the tomato and bean mixture over the dough and top with half each of the dates and feta.
Sandwich another three layers of filo together with melted butter and place on top.
Top with the remaining tomato mixture, dates and feta.
Sandwich the remaining three filo sheets together as before and place on top.
Lightly score the top, cutting into diamonds.
Brush with the remaining butter and splash with a little water.
Cook for 35–45 minutes or until golden.
Let cool slightly before serving, drizzling each portion with a little honey.
Find more vegetarian Greek recipes on Food Republic: