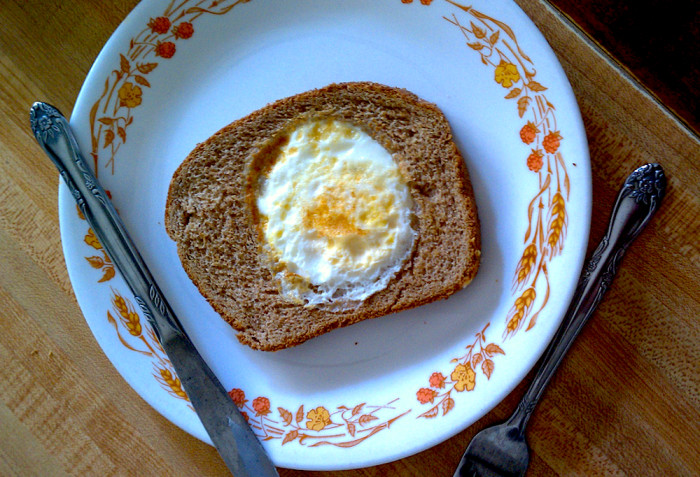 Classic British toad in the hole is made by baking sausages into a flour and egg batter, not unlike Yorkshire pudding. But that involves batter and baking. We just have eggs, bread and sausage patties and would prefer to get the job done in one pan in under 15 minutes, if possible. What's that, you say? It's possible? Well, good.
This dish is highly customizable — use thickly sliced rye, pumpernickel, challah, whatever strikes your fancy. I advise against thinly sliced white bread because it doesn't contain both the egg and sausage as well as its sturdier counterparts, and if you're going over-easy (and you should) you'll want a slice that soaks up all that yolky goodness as it oozes out.
We're kind of curious to see if our frying an egg on a piece of paper trick would work with this recipe.
Ingredients
2

thick slices

bread

2

sausage patties, thawed if frozen

1

tablespoon

butter

2

large

eggs

Salt and pepper
Directions
Using a knife, biscuit cutter or similar circular object close to the size of a sausage patty (a pint glass works pretty well), cut a hole in the middle of each slice of bread. The hole should be the same size or just slightly larger than the patty.
Heat a large non-stick pan over medium-high, then add sausage patties, fry until warmed through and browned on both sides and set aside.
Lower heat to medium and melt the butter in the pan.
When the butter is hot and foaming, add the bread to the pan and place the sausage patties in the holes.
Crack an egg on top of the sausage patty and allow white to set completely, about 2 minutes.
Season with a pinch of salt and pepper.
Quickly flip each slice of bread over and fry on the other side for about a minute, then flip egg side up and serve immediately.