Tingling, Baby: How To Make Cumin Lamb Stir-Fry At Home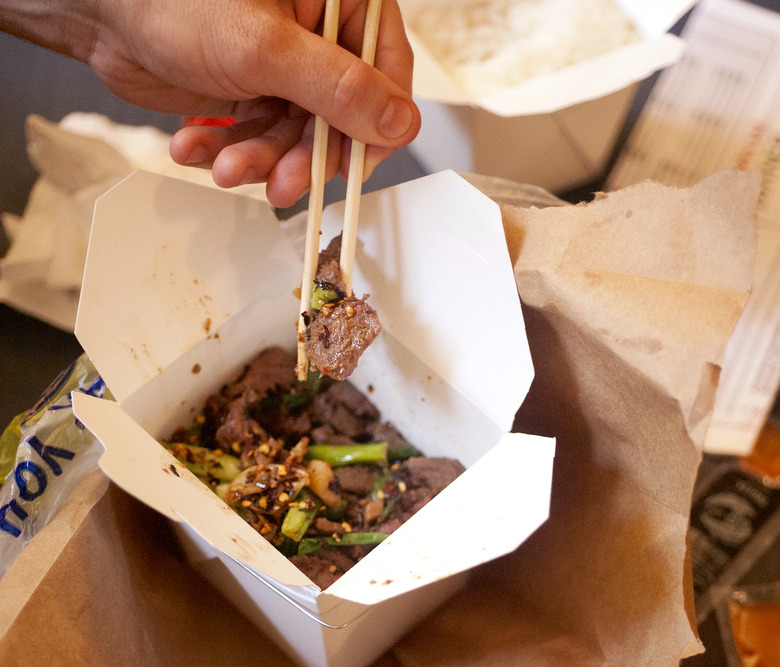 Photo: Michael Harlan Turkell
We may receive a commission on purchases made from links.
If you're ready to take on the wide world of home butchering, make sure you pick up a copy of The Meat Hook Meat Book. Tom Mylan, co-owner and executive chef at the Brooklyn sustainable butcher shop wrote this formidable tome that's equal parts butchery handbook and recipes — for that which you just butchered, all by yourself. Now, fire up the wok.
This spicy, fragrant dish, with origins in Northwest China, is not for wussies. For those not familiar with the "tingling" effects of Sichuan peppercorns, they basically make your mouth go a little numb and throw off your sense of flavor (and balance) a bit. Still interested? We hope you are, because when the peppercorns are married with a beautiful leg of lamb and earthy cumin, there really isn't stopping your dinner party from becoming a real international food party. Wine might just be required. But what to drink? Well, our wine columnist has you covered.
Also see: For Brooklyn Butcher Tom Mylan, It's Grill Big Or Go Home
Tingling, Baby: How To Make Cumin Lamb Stir-Fry At Home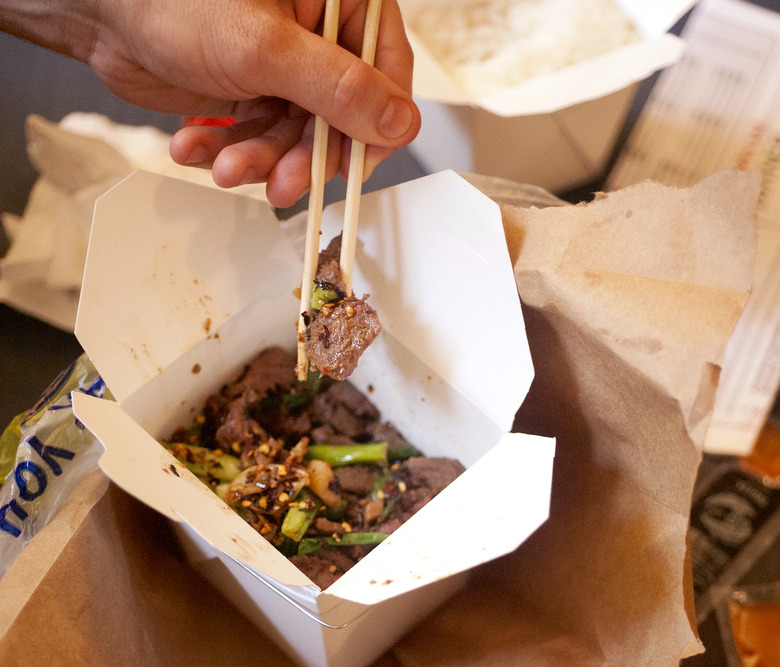 Ingredients
1 pound boneless leg of lamb
2 tablespoons ground cumin
2 tablespoons soy sauce
2 tablespoons Shaoxing rice wine
1 tablespoon sesame oil
2 cloves garlic
3 - 4 Sichuan peppercorns
1 teaspoon kosher salt
2 - 3 tablespoons peanut oil or toasted sesame oil
5 hot dried red Asian chiles (the little skinny ones)
1/2 cup raw peanuts
1 bunch scallions
Directions
Place the lamb on a cutting board and slice it into strips as thin as you can manage using a sharp 8- to 10-inch chef's knife. (Chilling the meat beforehand will make it easier to slice; place the package from your butcher in the freezer for 20 minutes.)
If the strips are wider than 1/2-inch, stack them a few at a time and cut lengthwise in half.
Mix all the marinade ingredients well in a medium bowl and then toss the meat with it, coating thoroughly.
It's best to allow this to sit overnight, covered, in your fridge, but if you don't have time, let it marinate, uncovered, at room temperature for 1 hour.  
Heat a large wok or skillet over high heat until smoking hot.
Add 1 tablespoon of oil, then add the chiles and peanuts if using and let them sizzle until they start to blister and take on color.
Add the meat and stir-fry until just cooked with some browning, about 2 minutes. If you need to add more oil to make the browning happen, then add a little more now and cook for 1 minute longer.
Use a spoon to pull the meat and chiles out of the pan and onto a waiting plate.  
Add more oil to your wok and get it very hot before adding the scallions.
Stir-fry the scallions just until they turn bright green, about 2 minutes.
Return the meat and chiles to the pan and toss for a few moments longer, just until everything is hot but not so long that the scallions get mushy, about a minute or less.
Serve immediately over rice.
Tangerine Beef With Glass Noodles Recipe
Grilled Vietnamese Shrimp Noodle Bowl Recipe
Tamarind Beef & Kohlrabi Salad Recipe