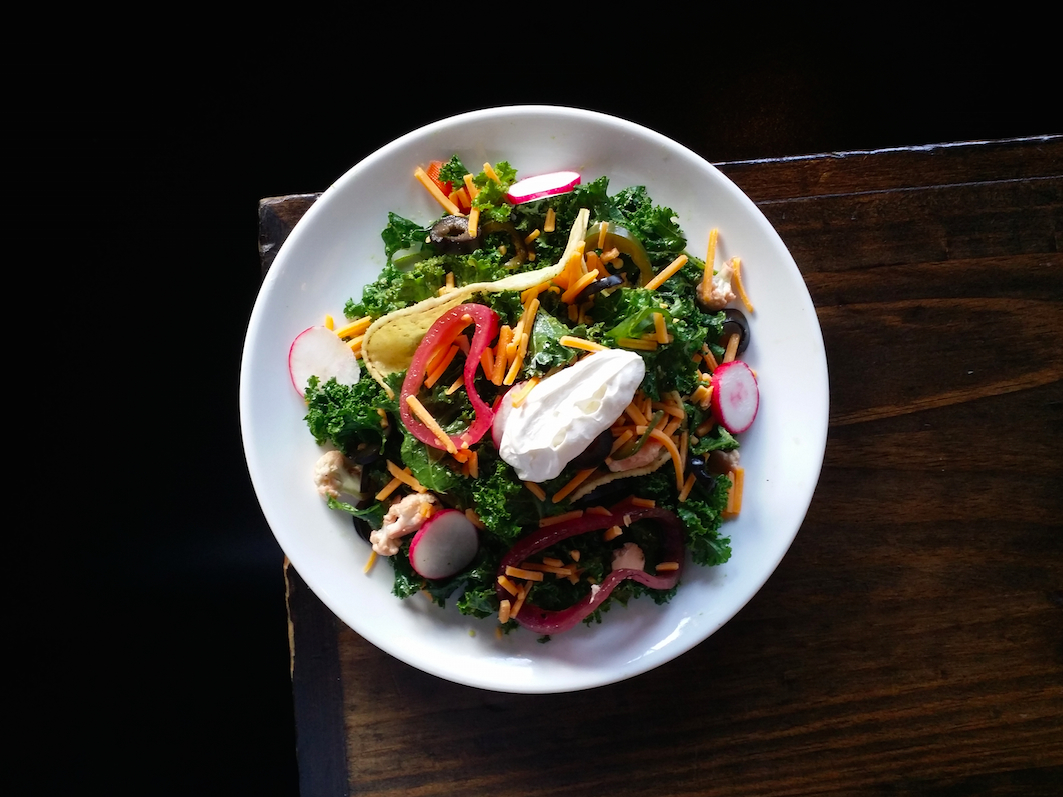 Thistle Hill Tavern is the cozy Brooklyn restaurant from Top Chef alum and all-around kitchenmaster Dale Talde and his partners (they make up the Three Kings of Brooklyn, as seen in this Food Republic illustrated series). The casual spot plays up the bounty of local, seasonal ingredients, and its menu is packed with stuff you really want to eat. Like a taco salad, but not a terrible taco salad. Swap out lettuce for kale and don't worry about the taco shell (crushed up chips on the bottom add flavor and crunch just fine!). The point is, make a taco salad.
Ingredients
Salsa Verde Dressing
4

tomatillos, shelled and cleaned

3

poblano peppers

1

large

white onion, diced

4

cloves

garlic

1

cup

cilantro, chopped

1

cup

lime juice

1/2

cup

queso fresco

2

tablespoons

ground cumin

1

tablespoon

ground coriander

1

teaspoon

paprika

1

teaspoon

cayenne

Salt and pepper, to taste
Salad
1

(6-inch)

corn tortilla

2

cups

kale, torn and cleaned

3

tablespoons

salsa verde dressing (recipe below)

3

tablespoons

shredded cheddar cheese

1

tablespoon

pickled jalapeños

1

tablespoon

sliced black olives

1

tablespoon

sour cream
Directions
For the salsa verde dressing:
In a 450°F oven, roast poblanos, tomatillos, white onions and garlic.
Once roasted, let rest and cool to room temperature.
Blend all ingredients until nice and smooth.
For the salad:
First prepare the taco shell. Put soy or peanut oil in a pot and heat to 350°F.
Once at temperature, place tortilla into the oil and using a ladle, press the shell into the shape of a bowl. You can also substitute 1/2 cup of lightly crushed tortilla chips instead of this shell.
In a moxing bowl, combine kale with dressing and mix thoroughly.
Place the kale salad onto a plate.
Add the taco shell on top and garnish with pickled jalapeños, black olives, cheese and sour cream.
Find more kale salads on Food Republic: