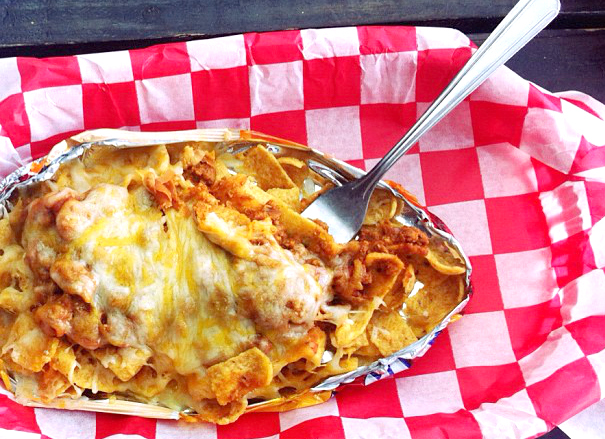 Fritos ("little fried things") were once just a popular Mexican beach snack before the Doolin family discovered the corn chip in a San Antonio gas station and made them the focal point of a now classic southern dish. In the 1930s, Charles Elmer Doolin and his mother, Daisy Dean Doolin, took their discovery and created the Frito Pie, a comfort food topping the corn chip with chili, cheese and sour cream.
In 1982, Petro's Chili and Chips popularized the walking taco at the World Fair in Knoxville, Tennessee and now, Morgan's Barbecue is bringing the dish up north to New York City. Chef Andres Fernandez's frito pie is served old-school style in a slit-open Fritos bag, smothered with Texas red chili and topped with white onion, cheddar cheese, sour cream, scallions and Morgan's signature slow-smoked brisket.
Ingredients
Texas Red Chili
5

pounds

boneless beef chuck, cut into small chunks

1

onion, chopped

4

cloves

garlic, chopped

1

large

fresh jalapeño, seeded and chopped

1

can

beer

2

tablespoons

cumin

5

teaspoons

vegetable oil

4

tablespoons

New Mexico ground red chilies

1

teaspoon

paprika

1

teaspoon

ground black pepper

2

teaspoons

corn tortilla flour

1

teaspoon

brown sugar

1 1/2

teaspoons

distilled white vinegar

2

cups

beef stock
Frito Pie
1

bag (10.25 ounces)

Fritos corn chips

16

ounces

sharp cheddar cheese, shredded

1

white onion
Directions
For the Texas Red Chili:
Start by browning the meat. This should be done in small batches to avoid steaming it. Take the meat out of the pan and place aside once you're done.
In the same pan you used to sear the meat, add the onions, garlic and jalapeno and cook until translucent.
Add the cumin, paprika, ground chile, pepper and brown sugar and slightly toast in the pan, about 30 seconds.
Deglaze the pan with beer, vinegar and beef stock. Bring to a boil and simmer for 30 minutes.
Place the meat into the broth and cook until tender.
In a bowl, add the corn flour and some of the broth from the chili and mix until you have an even paste.
Add the paste to the chili and bring it to a boil one more time. Season with salt to taste.
For the Frito Pie:
Place a small bag of Fritos on its side.
Slit open the "top."
Spoon Texas red chili on top.
Garnish with chopped white onion, cheddar cheese and sour cream.
Serve immediately.
Find more chili recipes on Food Republic: