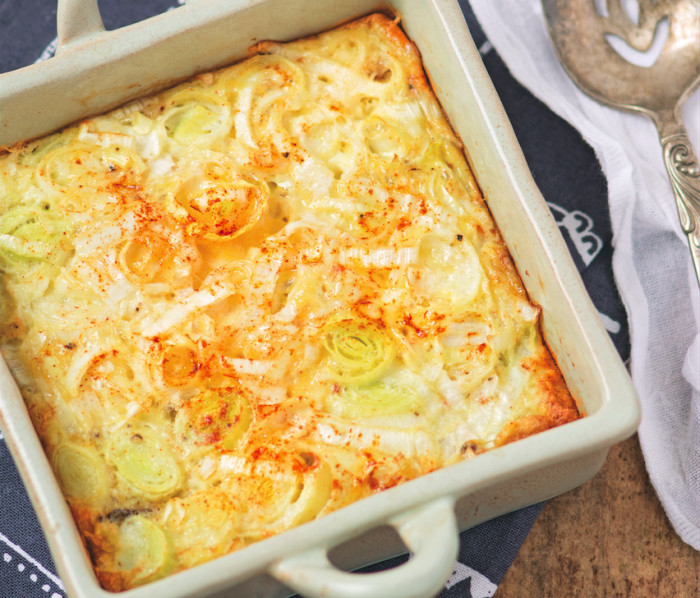 Paleo cooking has never been so easy! In One-Pot Paleo, Jenny Castaneda shares delicious recipes for enticing paleo meals that require only one pot, pan or bowl. That means more tasty, filling paleo meals without the mess. You'll spend less time cooking and cleaning and more time enjoying your meals. Try out this recipe for a delicious, healthy paleo dish masquerading as a crazily indulgent, creamy quiche.
Leeks are milder and sweeter than their onion cousins, and they pair really well with eggs and butter without overpowering them. The thinly sliced pieces soften easily and almost dissolve into the eggs, creating a distinctly creamy texture. For this recipe, I add shredded potatoes and bake until crispy before adding the eggs. The result? A golden hash-brown crust baked into the buttery eggs. Mmmm, sinfully good.
Reprinted with permission from One-Pot Paleo: Simple to Make, Delicious to Eat and Gluten-Free to Boot
Ingredients
For the coconut milk
2

cups

hot water, about 160°F

1 1/2

cups

shredded unsweetened coconut flakes
For the crust
2

pounds

potatoes, shredded

1

tablespoon

ghee, melted

1/2

teaspoon

black pepper

1/2

teaspoon

sea salt
For the quiche
8

large eggs

1/4

cup

coconut milk (see recipe below)

1/2

teaspoon

paprika

1/2

teaspoon

sea salt

1/2

teaspoon

black pepper

1/2

teaspoon

garlic powder

1/2

teaspoon

onion powder

2

leek stalks (white parts only), quartered and thinly sliced

2

tablespoons

cold butter, cut into small cubes
Directions
To make the coconut milk:
(Makes about 2 cups)
Combine the hot water and coconut flakes in a high-speed blender. Cover and blend on medium-high for 1 minute.
Cool for 10 minutes and strain using a nut milk bag or cheesecloth.
Pour into a glass jar and cover tightly. Store in the fridge for up to 4 days.
To make the quiche:
Preheat the oven to 425°F.
Using a nut milk bag or cheesecloth, squeeze out the excess liquid from the potatoes. Season the potatoes with ghee, black pepper and sea salt.
Arrange and press the potatoes on the bottom of an 8 x 8 inch baking dish until they form a layer about 1 inch thick. This will reduce in half once the potatoes are cooked, so a thicker layer is necessary. Bake in the oven uncovered for 45 minutes until the top is light brown. Remove from the oven and set aside for 5 minutes.
Reduce the oven temperature to 375°F.
Crack the eggs into a large bowl. Add the coconut milk, paprika, sea salt, black pepper, garlic powder and onion powder. Whisk until light and frothy.
Add the leeks to the egg mixture and stir to combine. Pour the mixture on top of the baked potatoes. Randomly distribute the cubed butter pieces on top.
Return the baking dish to the oven and bake, uncovered, for about 25 minutes until the eggs are set. Turn off the heat and leave the quiche in the oven for 5 to 8 minutes. Cool slightly before cutting and serving.
Mix up your burger game with these recipes from Food Republic: