Third Base Cocktail Recipe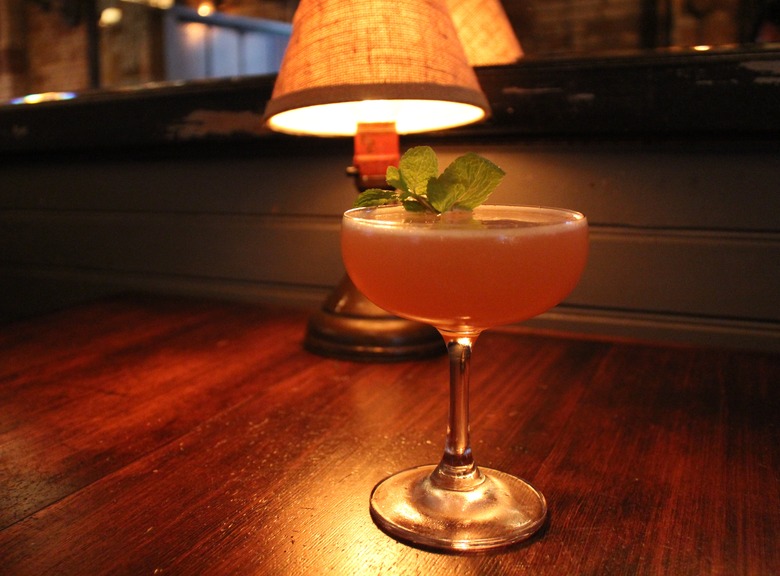 Cocktails have never shied away from lewd or obnoxious names, and I might even consider ordering a Slippery Nipple, Screaming Orgasm or Bosom Caresser if they were even remotely palatable. Actually, the Between The Sheets is a rather delicious Prohibition-era classic, and likewise, the newly crafted Third Base at Brooklyn's Extra Fancy disproves the stereotype of the morally repugnant cocktail genre.
As Robert Krueger, partner and bar director at Extra Fancy, puts it: "The Third Base was finding a cocktail to match a name which we thought was fun. We wanted a fruity, aromatic and rather strong cocktail to live up to the name." With a base of the also Brooklyn-based Perry's Tot Navy Strength Gin, this drink certainly has structure. Robert builds upon this spirit's botanicals with honey syrup, peach purée, lemon and a cane-based spirit similar to Batavia Arrack rum called Swedish Punsch which adds darker dimensions of toffee and tea, but also brighter citrus aromatics.
A mint garnish finishes this drink's highbrow/lowbrow juxtaposition of good humor mixed with well-balanced, quality ingredients; also represented through the restaurant's New England fish shack meets fine-dining fare. Mixing a gin and a rum base together is a great way to pass any bases and move directly to home plate, though quite possibly solo. Regardless, it's impossible to know what fate lies ahead when sipping this unassumingly complex cocktail. Enjoy.
Third Base Cocktail Recipe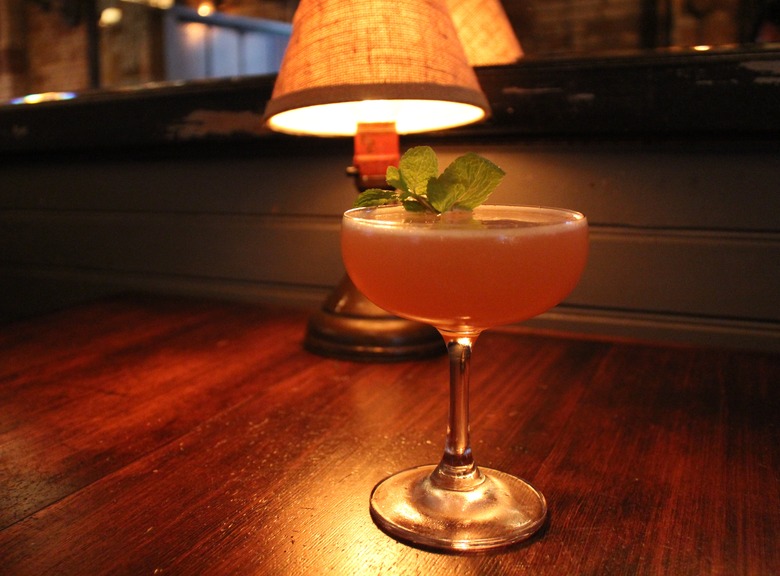 Ingredients
1 ounce Perry's Tot Navy Strength Gin
1/2 ounce Swedish Punsch
3/4 ounce fresh squeezed lemon juice
3/4 ounce peach puree (Boiron or CapFruit)
3/4 ounce honey syrup
Directions
Combine ingredients into a cocktail shaker and shake vigorously for 10 seconds.
Strain into a chilled coupe and garnish with a mint sprig.
Father's Day Drinking: Don Lockwood Cocktail Recipe
Stick A Straw In This Sherry Cobbler Cocktail Recipe
Cardamom Blush Cocktail Recipe